Atypical Holiday Decor That Goes Beyond The Red & Green
@shoppeamberinteriors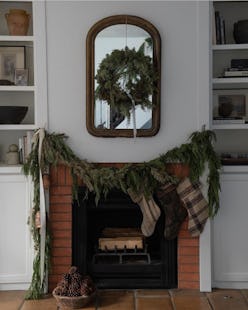 There's an unspoken rule that the moment Halloween night comes to a close, one has carte blanche to begin envisioning their holiday decor display. It's that wonderful time of year when homes are adorned with merry and bright interiors (and exteriors) and there's a strong sense that the celebratory season has officially arrived. But even for the most ardent lover of the festive season, peppering your home with red and green can feel like a tad much, which is why stocking up on atypical holiday decor isn't a bad idea.
"Don't feel pressured to do the traditional Christmas red and green, instead find holiday decor that blends with the theme of the home," Studio Shaolin founder Shaolin Low says. For some, this might mean finding new ways to weave natural elements together, like dried florals and wintry greens. For others, leaning into hues that still speak to the season without feeling overt can also help get your personal space into the holiday spirit. "Christmas color palettes can also be composed of blush, blues, and gold," Low adds. Keeping this in mind, continue ahead for advice from designers on how to decorate your home this year without feeling cheesy or over-the-top.
Bring the Aromatic Outdoors In
"I'm always in favor of bringing the outdoors in during the holidays," Peter Dolkas of Studio Dorion tells TZR, pointing to the flower district in Manhattan as his favorite place to shop for holiday decor. (His go-to source: Jamali Garden.) "If you're not into a tree and evergreens, consider something local to where you live: be it seashells, tree branches, cacti, or seasonal fruit." He also suggests bringing aromas from the outdoors into your personal space to cue the cozy vibes. "A bowl of oranges studded with cloves is the epitome of holiday chic to me, and fills your house with the best scent."
Choose Tonal Variations of Classic Colors
No matter how much you love the holidays, it's still easy to overdose on red and green schemes, which is why when it comes to your personal space, opting for a variation on tradition palettes tends to work well. "Incorporating earth tones creates a calming and beautiful palette that does not clash with your home decor," City Hill Design Co-Founder Amy Mobley says, counting pale pink, bordeaux, hunter green, off-white, and antique golds among her favorite hues. "While we love the traditional red and green, we prefer to see them in more rich jewel tones like deep burgundy and emerald green, which adds a lovely layer of depth and sophistication to a standard holiday scheme," adds designer Ryann Swan.
Arrange Bottle Brush Trees
"An alternative decor idea we love at City Hill Design is to arrange bottle brush trees on a pretty tray," Mobley says. This charming tabletop display lends depth and texture to a vignette and adds the perfect dose of holiday cozy. Choose a set in your home's color scheme or go for earth tones for a subtler look.
Weave In Tablescape Metallic Accents
The dinner table is often a focal point during the holidays thanks to festive gatherings with friends and family, and Swan nods to this area of the house as a good place to experiment with new color schemes. "I have loved using deep plum florals offset by metallic accents on holiday tablescapes the past few years."
Tie a Ribbon On It
The Balletcore ribbon trend is shifting from the fashion landscape to interiors, so it seems. "Another alternative decor idea would be tying an interesting ribbon around accessories," Mobley says. If you're hosting a cocktail party or dinner, tie these around glass stems for an extra festive finish (and an easy way to remember which glass belongs to who).
Rethink The Ornament
If you're investing in a beautiful tree, why not use it as an opportunity to set the tone for your holiday decor? "Think outside the box in terms of tree decorating, it doesn't need to be all standard ornaments," Swan says. "For example, dried flowers are lovely to incorporate into a tree and add an extra layer of texture and dimension."
Streamline With Monochromatic
Red and green can be lovely for an outdoor display but the color duo can sometimes feel overwhelming splashed across your interiors (especially if you're in a smaller space). "Lean into a single color. A monochromatic theme is bold and fun for the holidays," Elsie Home + Design designer Liane Baumann says. "Think having all the usual components of holiday decorating, but everything dressed up with that solitary color: a French blue velvet ribbon as a tree topper, presents wrapped in the same color, and a customized garland adorned with hue-matching items."