10 Art-Deco-Inspired Home Trends Designers Recommend For A Touch Of Opulence
Let's go back to the Roaring Twenties.
Hapi Art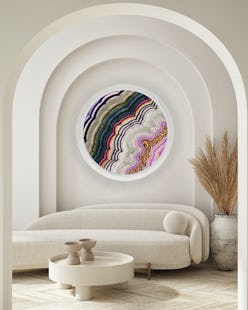 As joyful fashion makes its way to the forefront during spring and summer, lavish 1920s art-deco-inspired home trends are similarly poised to rule. Synonymous with extravagance, a taste for glamour isn't necessarily a prerequisite, though many who are partial to glitz and glamour will undoubtedly feel an affinity. Deco style — most notably characterized by sleek, geometric, and stylized forms — often befits modern or minimalist tastes, whether it's a rounded sofa, graphic rug, or sculptural lighting fixture made of lucite or brass. The 2021 resurgence is quite symbolic — an embrace of luxury and idealism following the turbulent Coronavirus pandemic.
"The art deco trend first appeared in home and fashion when a renewed sense of optimism and hope was emerging after World War I," Emily Sanford, founder of the Charleston-based design firm, Sanford Collective, says of the trend's origins. "I think we're all feeling that renewed sense of hope and optimism now as we start to emerge from the worst of the pandemic and vaccines are rolling out."
For everyone, the home took on a hugely significant role throughout 2020, from double-duty dining rooms and kitchens to reconfigured bedrooms and nooks to accommodate a 24-hours-a-day-at-home lifestyle. But even with a sense of "normalcy" slowly returning to life, Sanford says people will continue to put an emphasis on their homes, and with opulent touches, to boot. "I believe even the smallest detail has the potential to color the mood and tell a story, and after taking Zoom calls in sweatpants for the past 14 months, who doesn't want to add a little luxury to our everyday backdrop? If you're looking for ways to bring more visual interest to your space, incorporate the art deco trends that have bold colors, geometric patterns, and luxurious materials."
As one of her favorite periods, Penny D. Francis, principal designer and owner of Eclectic Home, says '20s art-deco-inspired design consistently plays a role in her work, from furnishings and materials to colors and finishes. "The fact that the '20s are having a moment in interiors is so exciting," she tells TZR. "The richness of color, layers of bold patterns, and luxe metallics have such a luxurious and timeless appeal."
Elements from the period include bold geometric patterns in tile, wall coverings, and fabrics, Francis explains, as well as curved and angular furniture, black lacquer finishes, brass and glass, and bold ornamental lighting. Such opulent style, however, requires restraint. "A little goes a long way," Francis says. When injecting an item or two, she adds, "I'm a huge fan of the curved sofas and chairs; they add interest and geometry to a space while creating a more intimate arrangement for conversation and entertaining." The designer suggests pieces in rich velvet for an even bolder statement, especially for a pop of color.
Cecilia Maresca, director of antiques dealing and vintage buying at Maresca Interiors, points out other instantly recognizable features of Art Deco and Bauhaus movements, like Asian design touches and the use of chrome, glass, and heavily polished wood. "In one of our recent projects — the renovation of Thom Sweeny Townhouse flagship store in Mayfair, London — we took inspiration from the '20s in the creation of the bar in the pool table room, which features a dark oak fluted wood counter with brass hanging lights. [The '20s also inspired] the Italian marble bar corner of the Sol's lounge area, featuring luxe crystal glassware, glamorous ambient brass lighting, sleek leather loungers, and brass bar stools."
Another trademark of Deco-inspired interiors: modernist art, which can be anything from abstract black-and-white paintings to multicolored geometric wall hangings and metal sculptures. "The movement is all about going big and making a statement by using geometric patterns, vibrant color, and curved, round shapes in furniture and accessories," says artist and founder of Hapi Art, Kristi Kohut. For the color-inclined, Kohut's mesmerizing chromatic stripes and nature-inspired Agate series are an utterly refreshing and vibrant take on the movement, not to mention the embodiment of joy.
Keep reading for 10 '20s art-deco-inspired trends, as explained by Sanford, Francis, Maresca, and Kohut, and shop the edit to bring a touch of decadence to your home.
We only include products that have been independently selected by TZR's editorial team. However, we may receive a portion of sales if you purchase a product through a link in this article.
The '20s-Inspired Design Trend: Luxe Metals, Lucite, & Lacquer
"I love luxe metals in home décor because they are like adding jewelry to an outfit, polishing off the look, and giving it an interesting look without feeling too over the top," Sanford tells TZR. "Introduce luxe metals in small doses, like the hardware on cabinets, mirrors, and small objects, or go for a bolder moment like a metal bar cart. This CB2 Specchio Mirror would look gorgeous over any piece of smaller furniture, like an entryway console or a chest of drawers in a bedroom. The polished champagne makes it such a luxe material, so I'd pair it with something with more traditional lines and tones, like a walnut wood dresser."
A luxurious-looking combination for Deco-inspired home design that you can easily DIY? A high-shine surface with brass finishes. "Painting a cabinet or bathroom vanity in a black lacquer finish with brass hardware is also a way to incorporate a little of the luxe into your home," Francis says.
Kohut tells TZR, "Luxurious, man-made materials such as lucite are often used in Art Deco interior design and lend a feeling of richness to a space. Try incorporating this material within statement furniture pieces such as a geometric, acrylic end-table or by framing a vibrant, contemporary art piece."
The '20s-Inspired Design Trend: Geometric Shapes & Patterns
"Geometric shapes and patterns are key to the Art Deco movement and lend a sleek yet bold feeling to a space," Kohut explains. "Incorporate a graphic patterned rug or wall-covering, or go bold with a round mirror or framed art piece." Small touches like serving trays, vases, and bookends are all easy ways to incorporate geometric shapes, too.
The '20s-Inspired Design Trend: Opulent Walls
"Bold rich colors like emerald green and black and white are oh-so-chic," says Francis. "Incorporating a rich wall color paired with a large-scale period wall-covering is a great way to include this amazing period into your interiors."
Kohut adds, "If you're looking to capture the opulent feel of this design, don't be afraid to go bold with color. Deep, jewel-toned hues will transport you to the Gatsby-era. Make a commitment and paint a space in a rich, high-gloss color for instant glamour."
The '20s-Inspired Design Trend: Statement Lighting
For a simple touch of luxury in your home, Francis says, "Adding a mix of lamps and statement lighting can be just the amount of glitz and glam your space needs to transform."
The '20s-Inspired Design Trend: Rich Upholstery
"Saturated colors, velvet, and fringe were all big trends in the roaring '20s," Sanford tells TZR. "One of the easiest ways to swap out a look in a room seasonally is by changing up your pillows and accessories — I love the olive green tones of this velvet pillow from Etsy. A tassel on each corner lends itself to that elaborate detailing the era is known for."
The '20s-Inspired Design Trend: Wicker & Rattan Arm Chairs
A seating style that's a signature of the '20 and recently taken Instagram by storm? Wicker seating — a look Maresca favors when channeling Deco style. The best part is the trend's versatility, whether you opt for a single armchair in the corner of a bedroom, a pair of lounge chairs in a living room, or even a settee on a patio. To customize this natural trend, Maresca says, "We re-upholster [wicker chairs] in luxurious velvets and often place in our projects' bedrooms and living rooms."
The '20s-Inspired Design Trend: Curved Furniture
Another Instragrammable trend you've likely double-tapped (if not created a dedicated save folder for inspiration)? Curved furniture, from sumptuous sofas to oblong tables and textured accent chairs. These often whimsical designs look best when offset with pared-back pieces in metal or wood for a contemporary feel.
The '20s-Inspired Design Trend: Vanity Dressing Tables
"We're obsessed with '20s vanity dressing tables," Maresca tells TZR. "These pieces are easy to find at flea markets and antique stores and add that touch of lavish yet timeless glam typical of a Great Gatsby interior," she adds. To up the opulence factor, seek out styles combining a mix of materials or those with a high-shine finish.
The '20s-Inspired Design Trend: Miniature Side Tables
Another furniture piece Maresca often uses when channeling Deco style is mini side tables, which she says are great to source secondhand. Designs range from sculptural and geometric to highly detailed and ornate, which boils down to tons of options for varying tastes. Materials run the gamut, too, from wood to aluminum and raffia to lacquer finishes.
The '20s-Inspired Design Trend: Modernist Art
"Another way to change the look of a space is through the use of art, whether it be an object, a painting, or a piece made by hand like a sculpture," Sanford explains. "Cubism and other classic Deco styles of art are all about bold shapes and colors. Hunting for art at estate sales, street festivals, and antique shops, you'll find that prices usually won't break the bank. If your style changes or doesn't work in a new space, it wasn't a heavy lift financially. I love Juniper Print Shop for their affordable mix of prints that you can frame yourself — this floral abstract piece is a modern twist on a timeless subject matter."