'80s And '90s Home Decor Is Getting New Life Thanks To These Black-Owned Shops
@glowgeometric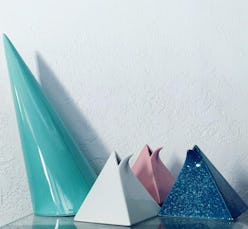 We've all heard the saying that everything old becomes new again, and this couldn't be more true than with home decor. If you're looking to revamp your living space, overlooking '80s- and '90s-inspired decor is a serious mistake. Both decades have produced trends that prove to be timeless — or, at the very least, seem to be coming around again. The '80s are now being embraced for their electric hues, cottagecore floral patterns, and geometrical furniture. And the '90s are now being embraced for the wicker and rattan textures, travertine tops, and smooth light wood finishes. And if you're looking to get in on any of these '80s or '90s trends, you should look no further than a few Black-owned home decor shops that are stocked with both vintage and vintage-inspired goods that will deliver a hefty dose of nostalgia.
"We often see an era in fashion first, and then see it in graphics and then in home decor," Dana Lewis-Murphy, founder of vintage shop Glow Geometric, explains. The online retailer is chock-full of '80s and '90s decor in vivid hues and, that's right, geometric shapes and silhouettes. Lewis-Murphy adds that she's noticed her 14-year-old daughter has been binging throwback shows like The Fresh Prince of Bel-Air and Golden Girls as well as absorbing the vintage styles found in her grandparents' closets and memorabilia stored in their garages.
And it's not just her daughter who's been bitten by the nostalgia bug. As it happens, Gen Zers (particularly those on TikTok) have been embracing the '80s and '90s and all their colorful glory in the home. "The resurgence is also fueled by little sparks of styles, especially the subgroups that are popping up," Lewis-Murphy explains, referring to microtrends like Barbiecore, coastal grandmother, Arcade Chic, and the list goes on.
And while mass retailers like Anthropologie and Urban Outfitters have been quick to jump on these trends as they arise, and can certainly provide you with '80s- and '90s-inspired decor, vintage and artisanal shops are your best bet for getting a more authentic item. And, as it happens, there are a number of Black-owned shops that sell chic, retro, or retro-inspired pieces you won't be able to find anywhere else. These items truly speak to both the Black experience during these time periods and the true chicness these eras delivered.
Ahead, a list of four Black-owned shops that prove '80s and '90s decor is back and chicer than ever.
If you're looking to really embrace the '80s in your home space, look no further than Glow Geometric. "I started [the shop] in 2016," recalls Lewis-Murphy. "I was having a hard time after losing my mother to cancer, and wanted to think of a time when I was a kid where everything seemed really fun and happy ... My mother actually had chairs that were featured on the '80s version of Dynasty and our house was very modern with decor of mauve, black, and silver." Lewis-Murphy explains. "So design was really all around me without realizing it at the time, but I was still taking it in."
Glow Geometric's selection of candy-colored decor resembles pieces from popular '80s and '90s programming like A Different World, Full House, and Saved By The Bell. Items range from squiggle-shaped vases and color-blocked tea kettles to massive watch-shaped wall clocks and cubed coffee tables. Before purchasing a piece, the founder says she always ensures it meets a certain criteria. For instance, it must be modern and specifically geometric, well-made, fun, and interesting. The entrepreneur also looks for items that are perfectly imperfect: "Because frankly, that's how I approach design. I love things slightly askew, slanted, or off-center."
BLK MKT Vintage distinctly mirrors Black cultural expression. Online or at the storefront in Brooklyn, you can find all manner of vintage memorabilia, artifacts, signs, and statues — all of which marry the relationship between Black people, pop culture, and American history. (The shop also provides personalized interior styling services, so you can really transform your home into a retro haven.)
All of BLK MKT's items are carefully curated by founders Jannah Handy and Kiyanna Stewart, who launched the shop in 2014. Each item boasts a unique and one-of-a-kind detail, whether that includes intricate hand-painted design and/or an interesting origin story. On its website, the brand guarantees its inventory is in fact vintage, so items are "well-loved" and often come with minor imperfections. But if you're yearning to truly bring in the history of Black culture into your home, overlooking these imperfections won't be hard.
Goodee believes in good design, good people, and good impact. Founders and twin brother design duo Byron and Dexter Peart started the shop as a response to their frustration with the fashion business, which they believed to be a broken system rife with seasonality, markdowns, and short-sighted values.
"We were challenged to break the status quo and felt very motivated and passionate about providing a uniquely inspirational, aspirational, and educational design destination enabling an engaged community of conscious consumers and impact-minded makers from around the globe to collectively call home," Byron explains.
The retailer works exclusively with artisans and brands that make a positive social or environmental impact. "At Goodee, the lens we look through, everything starts and finishes with a total commitment to good design and good purpose," Byron shares.
In addition to great design, Goodee also coincidentally sells impeccable furniture and decor with a nostalgic edge that can help you channel the '90s home of your dreams. Think: wood trays, wicker baskets, geometric-shaped chairs and tables, and tapestry blankets. These offerings will transform you to another time.
If you're loving the space-age decor of the late '90s, The Biomorphist, also founded by Lewis-Murphy, will allow you to truly indulge in the trend. "There was a very specific design movement and style that emerged during this time that has never gotten its credit," she explains.
To properly pay homage to this specific latter half of the '90s, The Biomorphist is dedicated to taking a very elevated approach to the Judy Jetson-inspired aesthetic, featuring designers like Karim Rashid, Zaha Hadid, Phillipe Stark, and Ron Arad. The online store has a handful of colorful and eclectic decor items that, once added to your space, will instantly bring you back to a simpler time of dome swivel chairs and lucite tables.