35 Clever Things That Ensure Everything In Your Home Has Its Place (& Can Easily Be Found)
We only recommend products we love and that we think you will, too. We may receive a portion of sales from products purchased from this article, which was written by our Commerce team.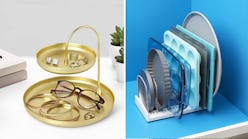 No matter how committed you are to Marie Kondo's minimalist philosophy, it's inevitable that you'll still have closets and pantries full of cooking tools, cleaning supplies, and clothing that you've decided brings you enough joy to keep around.
These gleeful messes are part of a flourishing, vibrant life. Cabinets piled high with plates and serving pieces speak of cozy family meals and elegant dinner parties. A vanity with lipsticks, lotions, and curling irons scattered across it hints at dedicated time for self care; a closet full of soft textures and distinct colors, a sign of creative self-expression.
Happy homes are sure to be filled with these kinds of treasure troves of everyday things that, while delightful and necessary, can still lead to that dreaded feeling of clutter and disorganization. The right products, like these clever things that ensure everything in your home has its place, will help keep your humble abode full of the things you need and love, but clutter-free and tidy.
Finding the proper organization tools will not only make your closets and countertops look great, but it will also save you time. With smart storage solutions, like tiered shelving, drawer dividers, or over-the-door storage baskets, you won't have to rummage through dingy boxes or the back of cabinets to find the things you need.
If you're ready to spend more time enjoying your home and less time trying to find things — or find a place to put things — read on and discover which of the following clever products are right for you.
This article was originally published on