Health Experts Buy These 12 Foods At Target (And You Should, Too)
Vladislav Noseek/Shutterstock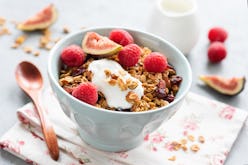 Some days you take the time to make yourself a healthy, nourishing meal. Other days, you eat ice cream for breakfast and lunch because it's the only thing you have in the house besides a bag of frozen peas and a jar of pickles. To ensure that those less than nutritious days are few and far between, it's important to have some key good-for-you items stocked in your fridge or pantry. Luckily, there are lots of healthy foods to be found at Target, the mecca for, well, everything. As if you needed another reason to spend hours there.
By keeping some nutritional foods on hand, you give yourself a leg-up when it comes to making meals that are not only good for you, but are easy to make, and taste good, too. It's just easier to make wiser eating choices when you have the proper ingredients readily available — aka no more excuses for ordering in or not eating at all because you have "no food at home."
But what exactly are the appropriate healthy kitchen staples? To get as accurate of a grocery list as possible, TZR spoke to four experts and asked them to reveal the items they always keep stocked in their fridges. And with snacks like coconut yogurt and mango slices making the list, it's safe to say the options are not only edible, but pretty delicious. Add these to your grocery list immediately.
Coconut Yogurt
"I use this as a replacement for cow's milk yogurt," says Jodi Moreno, natural foods chef, author, and recipe developer behind the award-winning blog What's Cooking Good Looking. "Because most store-bought coconut yogurts have a noticeable coconut flavor, they are best used in dishes that are sweet."
Dried Mango Slices
"I love mangoes, but I don't love waiting until they are ripe and slicing them up," says NYC-based Registered Dietitian, Natalie Rizzo, MS, RD. "Instead, I always have these dried mango slices in my pantry for when my mango cravings strike. These are just dried fruit, and they are the perfect fuel for my early morning running."
Black Beans
"I feel like I can make a meal if I have black beans in my cupboard," says Rizzo. "This versatile bean serves as the protein in many of my meals because it pairs so well with grains, like quinoa, brown rice or a whole wheat tortilla. I combine them with my favorite veggies, cheese and some hot sauce and you've got a quick Mexican meal that comes together in no time. Plus, half a cup has about 100 calories, 7 grams of protein and 15 percent your daily value of iron."
Ghee
"This clarified butter is great for sautéing over high heat because of its high smoke points (the temperature at which the oil begins to burn giving food a burned flavor and losing nutritional benefits)," says Moreno. "It also adds a lovely richness and subtle nutty flavor."
Farro
"As a girl who grew up in an Italian-American family, I love my farro," says Rizzo. "It's an ancient grain, which is used as the base for many Italian dishes, like soups, stews, and grain salads. It's hearty and chewy with a nutty flavor, so it's great as the whole grain base for any dish. And a quarter cup has seven grams of protein, which is ideal for those who don't eat meat."
Almond Butter
"Who doesn't love almond butter? We mix it in smoothies and use it to whip up baked treats," say Karena Dawn and Katrina Scott, founders of Tone It Up. "These Blondies Muffins with almond butter and chickpeas are incredible! Chickpeas are another of our staples too!"
Miso
"The one exception I make for soy is miso, because the fermentation process results in a much friendlier form of soy, meaning it's less allergenic and has more beneficial amino acids," says Moreno. "I like to keep multiple flavors of miso on hand because I use it so often. Sweet miso and red barley miso are my two staples, and would be a good place to start before adding in others as you get more excited about using miso. Of course, if you are avoiding soy altogether, you will want to seek out a soy-free miso such as chickpea."
Natural Peanut Butter
"Out of all the fancy brands of peanut butter at the supermarket, this simple one is my favorite," says Rizzo. "It's just ground peanuts and salt, so it tastes really delicious and fresh. And since it's a brand you can find everywhere, it's really economical, which is why I always have a few jars on hand."
Quinoa
"The ultimate pantry staple," say Dawn and Scott. "It's so easy to mix quinoa with your favorite lean protein and veggies for a quick lean bowl. That's our go-to dinner after a busy day at the office or filming workouts."
Frozen Veggies (And Some Fruit)
"A variety of frozen berries and veggies can be found in my freezer because they last a long time," says Moreno. "And I always have something to add to smoothies, baked fruit dishes, or a veggie stir fry."
Coconut Oil
"Coconut oil has so many amazing benefits — it boosts your heart health, keeps you feeling lean, and makes your skin glow," say Dawn and Scott. "We cook with it and even use it as a lotion on our skin."
Lentils
"Lentils have a nice bite, so they can serve as the grain and protein in most of your dishes," says Rizzo. "Lentils make a great substitute in dishes that would usually contain meat, like meatballs, lasagna, tacos or buyers. And just one cup cooked has 18 grams of protein, in addition to iron, folate, and fiber."