This 14-Piece Cookware Set From Target Is $70 (And Will Make Meal Prep A Breeze)
united photo studio/Shutterstock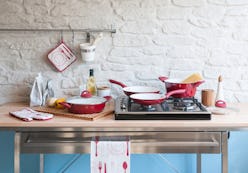 Of all the items in your kitchen, the ones that help feed you are arguably the most essential (sorry, wine opener). That's why staples like non-stick cookware sets are such a hot commodity, and have been since, well, forever. How else are you going to efficiently execute a solid meal-prep operation?
Yes, right up there with the perfect end table and accent chair, a solid collection of pots and pans that won't burn your food is household gold. And while there's definite value in doling out good money on a pricey stainless steel set, it's not entirely necessary. There are plenty of wallet-friendly options that handle the job just fine — you just need to do your due diligence and know what to look for (so you can spot the bargain when it's right in front of you).
First and foremost, make sure the set has the staple pans you will use almost daily (or, at least every Sunday when you're prepping for the week). A saucepan, stock pot, skillet, sauté pan, and omelette pan are some key pieces to look out for. That way, you can cook rice, grill chicken, and steam veggies all at once, and you won't have to do more than stir or flip from time to time.
Now, if you have a small space and not a lot of storage to work with, a smaller set of about five to seven pieces should have you all set. However, if you have ample cabinet room and really want to be fully equipped, opt for a 15- to 18-piece set with all the bells and whistles. Extra bonus items in these fully-loaded collections include Dutch ovens, griddles, the aforementioned basics in multiple sizes, and cooking tools like spatulas, spoons, and whisks.
One thing to note if you're going the affordable route (and key in doing your due diligence) is researching the quality of your purchase. That means — you guessed it — reading reviews. Look for commentary on durability, heat conductivity, stick factor, and ease of use. Another plus? Dishwasher-safe options. No one has time to sit there and scrub a pan every day, so get yourself a set that washes easily without sacrificing the state of your pan or pot.
In all honesty, nothing truly beats the quality of luxe stainless steel cookware — it's definitely the standard. However, an affordable non-stick set is a great alternative to buy some time on the journey to a more luxe kitchen — or allow you to forgo stainless steel altogether.
Luckily, some of the best home goods retailers offer plenty of quality cookware sets at even more appealing price points. Target, Wayfair, Overstock, and even the holy grail William Sonoma all offer great collections that won't cost you more than $100 dollars. Ahead, 10 worthy options guaranteed to make life a bit easier. Now cooking up that pasta, stir-fry, and veggie scramble will be easier than ever. So, you have a little more time on your hands to do really important things — like binge on Sex and the City reruns.