RSVP: 'Making Social Media Matter' Panel featuring Caitlin Crosby, Lauren Paul & Molly Thompson!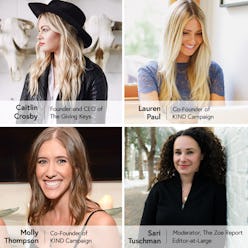 Hey, LA!
You're invited to Rachel Zoe's Pop-Up Shop at The Grove LA on Tuesday, March 29, from 6:30 to 8:00 pm for an inspiring night of conversation with some of the the city's most passionate philanthropists. Moderated by The Zoe Report's very own Editor-at-Large, Sari Tuschman, you'll hear from activists who have made a major impact in our community and how social media has amplified their efforts. Our amazing panelists include:
With limited space available, be sure to RSVP today—you won't want to miss it!
Create your own user feedback survey