Here's What A Summer Of Style Really Looks Like — According To Fashion's Biggest Tastemakers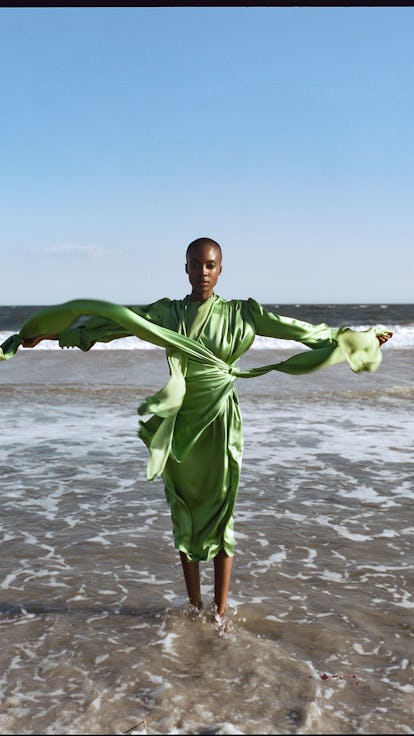 The word "summer" conjures specific visions for each of us. The slant of light on a favorite beach. A glass of wine sweating on a deck rail while you grill. The memory of your mother's tan lines when she let her bathing suit straps drift off her shoulders. A secret locale you disappear to every year where you can't be reached.
The magical thing about the stretch of days between May and September is the way time slows down just enough for each of us to experience the ultimate luxury: being at peace with where we are — geographically and in life. What is it about summer that makes us all feel a little freer in our own (SPF-bathed) skin?
Unsurprisingly, we at The Zoe Report think clothes have something to do with it.
As we wade into the season, TZR talks to tastemakers and luminaries across the fashion industry about what the ideal summer looks like for and on them. For Carly Cushnie, it's a stretch knit midi dress from her own line and entertaining at home in Brooklyn. CFDA winner Jonathan Cohen wears Rainbow sandals to remind him of his San Diego roots while he spends the summer working in New York City. Flesh Beauty founder and Allure magazine founding editor-in-chief Linda Wells dons a now-vintage Gucci tunic from the Tom Ford era as she fully inhabits her Hamptons idyll. And the TZR editors respectfully submit that summer dressing can venture away from the chic but safe shores of white denim and linen into the more adventurous territory of embellishments like embroidery, tassels, and sequins. 'Tis the season, we'd argue, to let your inner tropics bloom in waves of satin and bright organza — even if you're digging clams in Maine. Now is the time to ditch convention and embrace whatever feels good on.
That freedom, captured here by photographer Dana Scruggs and model Madisin Rian in pieces from the prefall 2019 collections, is what we hope to embody as the days get longer and lighter, and it's what the visions of summer shared below have in common.
What makes the next few months beckon to us all year long is how they make us feel — so calm yet alive that you take out the phone you've sworn you won't use and sneak out just one text that encapsulates it all: "Wish you were here."
Rachel Mansur & Floriana Gavriel
Designers, Mansur Gavriel
For designers Rachel Mansur and Floriana Gavriel of Mansur Gavriel, summer means one thing: escaping New York City. Sure, they agree, the metropolis inspires and invigorates, though sometimes at the cost of overstimulation and burnout. When it's time to plan their seasonal retreats, they both know exactly where they'd like to be.
Gavriel has her sights set on Italy; her mother has a home close to Venice that serves as a gathering point for family. "Sometimes we take trips to the Amalfi coast and spend some time by the sea, or visit family in Milan," she tells TZR. It's a trip packed with art (including a visit to the Biennale Arte), companionship, and food — you will find Gavriel cooking. On the menu? "Tuna pasta with hot peperoncino and garlic; fresh carrot and fennel salad with lemon and olive oil; olives and prosciutto, a crisp, dry prosecco," she says. Presentation of course, is key. Find everything "served on Mansur Gavriel Italian-made ceramics, on cheerful Pascucci linen tablecloths with hand-printed block prints, on a table near the ocean."
Meanwhile, Mansur is headed west to meet her husband at their house in Los Angeles. "We usually get away for a week further north, renting a house in Malibu or at Rincon Point, a surf spot south of Santa Barbara," she says. It's home to her favorite beach ("Point Dume in Malibu, quiet and beautiful," she says), and it's also full of opportunities for early morning trips to the Santa Monica farmer's market.
Wardrobe for both designers consists of light and flowy gingham pieces from the Mansur Gavriel linen collection, as well as the brand's Italian sandals. The Mansur Gavriel Cammello Vegetable Tanned Leather Tote is also a top pick for both. "The Cammello is classic and rich, and darkens in the sun over time," Gavriel says. In other words, it's a must for anyone, no matter where they find themselves this summer.
Elizabeth von der Goltz
Global buying director, Net-a-Porter
Elizabeth Von der Goltz, global buying director at Net-A-Porter, is above all else "a water baby."
"I love all sorts of water activities," she tells TZR. "Boat rides, lots of paddle boarding, scuba diving, and ending each day with a delicious meal, preferably fresh seafood and a chilled bottle of white wine." It perhaps goes without saying that her summer bliss comes from spending long, luxurious days by the sea — which explains why this season, she and her husband already have two upcoming adventures in the works that put her right in her happy place. "We just came back from Greece and have trips to Pantelleria and Cap Ferret planned for the summer," she says.
What she'll pack remains to be seen, but chances are you'll find her wearing her Ancient Greek sandals that are embellished with tiny gold puka shells. "They go with all my summer outfits," she notes. Some other items in her summer lineup include her "Fisch swimsuit, lightweight cotton-blend pants from LemLem, Elena Makri silk-tulle pieces, which can be worn as beach coverups or to dinner, and Harris Zhu jewelry." She likes "easy, no-fuss pieces that still look elegant and put together."
While her uniform is constantly in flux, her menu for the season remains consistent. "I like cooking with fresh in-season produce, so in the summer it would likely entail vibrant heirloom tomatoes, roasted corn, garden-fresh arugula, grilled zucchini, and tossing steaks or lobster on the grill," she says. "Dessert would be a berry pavlova."
Linda Wells
Founder, Flesh Beauty, and Founding Editor-in-Chief, Allure
"I have a feeling I'm going to have my ideal summer," says Linda Wells, and the more she talks about it, the more probable it seems. Most every weekend from now through Labor Day, Wells will be installed in her house in Southampton with her two sons, Charlie, 24, and Webster, 22. A typical day starts with SoulCycle. "I stay in those clothes way too long," she admits. "It's not a good look, but I'm oblivious." Eventually she changes into a coverup she's picked up in St. Barths or Greece, "one of those dresses you can throw on, something embroidered. It's so comfortable and so easy, and you just feel good." She tops that off with "sunscreen from my toenails to the roots of my hair" and sunglasses. ("I've got those pale eyes that get destroyed by the sun," she says.) Her favorite summer wardrobe staple? A "pinkish taupe" Gucci cotton tunic situation with front hook-and-eye closure. "It's from the Tom Ford era of Gucci, and it's still so good," Wells says.
More likely than not, she's then off to longtime friend Jane Buffett's house, where the action is — "she is the queen of all fun." The day winds down with Wells, a former New York Times Magazine food editor, cooking at home. The current menu chez Wells consists of a farro salad from the Manhattan hotspot Charlie Bird, plus some form of fresh seafood, loads of grilled vegetables, and a homemade tart or crostada featuring fruit from a local stand. The boys join her for dinner, and it's all about "just talking and laughing and being together. That's the ideal."
Oh, and then there are the weeks she'll spend in Capri, which she started doing a couple of years ago. A favorite day there consists of a meal and swimming at La Fontelina, a storied beach club situated literally on a rock formation in the Tyrrhenian Sea. Wells is one of those beachgoers who actually swims (although not in a bikini — "I can't," she says dryly), so access to the ocean is her top requirement for any beach destination. "I want to be able to get in the water and not have it be impossible," she says. This combination restaurant and bathing establishment fills that bill and more. "They have the most delicious food — beautiful fish and rose. Wild strawberries for dessert," Wells muses, like she can taste it already. After an obscenely long lunch, she dozes under an umbrella near a ladder leading directly into the sea. "That's the dream," she says.
Olivia Palermo
Entrepreneur
If summer is a choose-your-own-adventure season, Olivia Palermo likes the option of lying on the beach in Mustique, a favorite vacation locale. Were that the summer she'd chosen this year, she would currently be wearing "a bathing suit with a chic caftan, Alameda Turquesa sandals, and [her] Westward Leaning shades, of course," Palermo tells TZR, plugging the third installment of her collab with the luxe sunglasses brand. She would be there with her husband and "travel buddy," model Johannes Huebl, and wearing an on-trend hat, for the shade and the 'gram. "I have always been a big advocate of fabulous hats that can both protect me from the sun but look stylish at the same time," she says.
For summer 2019, though, Palermo is doing exactly none of that, instead remaining on the mainland to continue to build her company. She seems genuinely psyched about it, too. "My ideal summer is about to begin!" Palermo says. "We've been working so hard these past few years to really evolve the Olivia Palermo brand, and the first touchpoint of that will be our completely revamped website."
But if she were in Mustique: bikini or one-piece? "Both! Different occasions call for different swimsuits." Hotel or rental? "Hotel." Friend getaway or solo trip? "Friend getaway. It's always nice to have all of those you love around you." Nude beach or private pool? "Nude in a private pool." Wink emoji, of course.
Joseph Altuzarra
Designer, Altuzarra
It's been a whirlwind decade for Joseph Altuzarra, the 35-year-old who first launched his brand in 2008, paid his dues at Marc Jacobs, Proenza Schouler, and Givenchy, and now counts Meghan Markle, Rosie Huntington-Whiteley, Emily Ratajkowski, and as of the most recent Met Gala, Awkwafina, among his clientele. The vision and craftmanship he's known for don't just happen, so when summer comes around, Altuzarra is ready for low key. "For me the ideal summer is spending time at my house in Watermill with my husband, Seth, and my dog, Bean, preferably near a pool eating guacamole and chips from Round Swamp," he tells TZR. (Note: Linda Wells is also a Round Swamp fan, but she's partial to the gazpacho.)
Altuzarra's summer uniform is perfectly Watermill: a red faded Vilebrequin suit, a plain white T-shirt, and Sperry topsiders. And his Instagram piece of the season? "Our new Large Espadrille Tote in navy, cappuccino, or stripe," he says. (We recommend the cappuccino, which we believe to veer more into "tan" territory.)
Sir John
Makeup artist
Summer has a tendency to creep up on most of us — but for Sir John, the season definitively starts in May, when he ships off to Miami from New York to get started on his tan. The reason? "I live all year for summer," he tells TZR. "I love it because it's alive, and everyone has a sense of community. I'm a New Yorker. As soon as [summer] hits, there's beat in the city. We lose that rhythm in winter." Of course, he prepares.
After a trip (or two) to Miami, the season is in full swing, and that's when things really start to kick into high gear for Sir John, whose next order of business is to plan his own birthday celebration that rightfully lasts nearly a full week. His birthday is July 1, so "I celebrate from the first to the fourth," he says. You better believe he knows what this year's bash has in store; he's renting a boat in Malibu, "since New York and LA are dead around that time."
Then, it's off to Spain for three weeks in August, a vacation he tries to take every year that includes a dreamy few days spent in Barcelona. His biggest goal for summer, though, is to surround himself with his favorite people, a crew including but not limited to his dog, his guy, his sister, and his two best friends.
"I have a very small group of close friends," he says. "They're not just there when you're up, they're there when you're down… people who prop me up and lift me up."
With Sir John being a self-described "shorts and Vans kind of guy," the wardrobe element of his summer comes easily. Find him in "tank tops and shorts all day" and a "baseball cap to the back." The makeup artist considers himself a "sneaker connoisseur" (he has a modest collection of 65 pairs), though he doesn't have a single favorite brand. Expect to see him with a new accessory this year — a glinting gold chain he says he'll be "rocking all summer."
On top of all of it, there's one more item you won't find him without, and that's, perhaps predictably, his phone. "I'm always on the phone with an agent or business manager," he says. "Gotta keep the coins."
Jonathan Cohen
Designer
In a fantasy world, fashion designer Jonathan Cohen would pack up and relocate his offices for the summer. He would move back to San Diego, where he grew up — waking up in the morning for a run on the beach and to surf and swim before he starts his day. After all, that's where his dreams of a fashion career took flight. He tells TZR, "I spent so much time dreaming of being a designer when I was young in California, so whenever I go back, my mind starts to dream again. It's a place where my mind flourishes creatively."
And, of course, for so many of us, summer serves as the perfect reset. It's a time to relax and "enjoy the beach life," he says. However, as Cohen clarifies, a fantasy summer and his reality are a little bit different; as, in actuality, "most of [his] summer is spent working on the new collection."
But that doesn't mean you won't find Cohen soaking in the rays some days, wearing his shirt, swim shorts, and trademark Rainbow sandals, preparing his famous ceviche for his friends. When he does find the time to travel, he prefers to do it solo. If forced to choose between a hotel and Airbnb, his decision comes easy: "Hotel. I like the pampering." It's nice to travel with friends, but sometimes, he says, taking a trip by yourself can be a whole different kind of adventure. "I did a surf trip by myself one summer and it was really epic," he recalls.
Shiona Turini
Stylist and creative consultant
For stylist, costume designer, and consultant Shiona Turini, the perfect summer recipe is a mix: "[It] would be filled with travel (for fun, not work), lazy boat days, exploring new towns, hiking new trails, rooftops with friends, beach nights with family, falling asleep in the sun, and doing it all over again as often as possible," she tells TZR. It would also include time enjoying New York City. "I'm itching to cozy back up to Brooklyn for a few restful weeks. It comes alive in the summer. The day parties, barbecues, and cultural events seem blissfully never-ending," she adds.
Turini spends her summers traveling home to Bermuda and her family as many times as she can. "Beach hopping and boat days are what I live for," she says, "to dig my toes in the pink sand and be on, and around, the water." As Turini is originally from an island, summer dressing is her specialty. You can find her in a crop top and high-waisted flowy skirt or silky pant, no matter the location. Her favorite summer staple is a pair of brown leather flats from Greece. As she tells TZR, "the more worn in they get, the more beautiful."
When Turini is not with her family, she likes to host friends on her rooftop for barbecues. Not only does she love entertaining, but she also loves making delicious signature cocktails and spiked popsicles with a punch.
Jasmine Tookes
Model
You might expect Victoria's Secret model Jasmine Tookes to live in her bikini by the time summer rolls around, and you wouldn't be disappointed. "My perfect summer is spent with friends and loved ones in a beautiful, sunny beach location with nothing but good vibes," she tells TZR. And yes, she has a favorite bikini — this summer, you can find her in the VS Bralette Bikini Top matched with a high-leg bottom. As the model tells TZR, there's just something about "the high-cut, Brazilian trend for summer."
Because so much of her style is tied up in traveling and her suitcase, Tookes' summer wardrobe staple is the Brazilian Panty from Victoria's Secret. As she puts it, "it's high-cut, making it super sexy, and it comes in so many bright colors that scream summer."
Tookes says she passes much of the season with her female friends, exploring secluded beaches with white soft sand and crystal clear waters. She's never the one cooking, but she's still always up for a bite. "I'd probably find a cute beach shack restaurant that serves delicious fresh fish and grilled vegetables," she says. "Along with a glass of rosé."
Caroline Maguire
Fashion director, Shopbop
This summer, Caroline Maguire is headed to Bermuda. The fashion director of Shopbop, her husband, and two kids will be sprawled out on the beach for the month of July. The trip falls on her and her husband's eight-year anniversary, and as Maguire tells TZR, "what better way to celebrate!"
Of course, when you're vacationing in a beautiful location with two young children, your wardrobe has to adapt to any situation (especially when you might not have the time to change again). Her style picks? "Denim cutoffs, sport sandals, wraparound sunnies, and easy-breezy tops to take from day to night." Oh, and a dirty martini for good measure.
Maguire has two other summer loves you're likely to spot her with: Elta SPF and anything tie-dye. She isn't afraid of color and that stretches from head to toe, whether that means mixing bold prints or sporting neon nails. For Maguire, summer is about taking risks, in life and in fashion.
Carly Cushnie
Designer
"My ideal summer would be spent on a European beach, sipping rosé," designer Carly Cushnie tells TZR, and it's all you can do not to yell, "Same." It doesn't even matter where the beach is, she says, not really — so long as it has a few key, non-negotiable elements. "The perfect beach to me is one with white sand, clear water, fresh local seafood and wine, where I'm surrounded by family and friends," she says. It sounds like heaven, and that's probably because it is.
Equally as enticing to Cushnie, though, is a day spent at home in Brooklyn with her husband, Oscar, and daughter, Santi. "My husband and I love preparing meals for friends," she says. "Our kitchen doors open wide, leading out onto the terrace and down to the backyard, so we're able to cook while entertaining outside. I love to make fresh dishes, like a whole branzino with a salad, and something fun for dessert like an almond and berry tart." And the party doesn't stop there. "Tequila cocktails are always flowing, and Afro beats are playing over the speakers," she adds.
Regardless of where you find her, you can count on her summer uniform to contain pieces of her own design — most notably, a gold pleated stretch-knit midi dress that would look just as at home at a cocktail party as it would a fancy backyard soiree, and her white "Mini Jelly" bag with fringe for days. For those nights when she really wants to stand out, a lime chiffon jumpsuit from her Spring 2019 collection does just the trick. "The color is fresh and vibrant, and the silhouette is so effortless and feminine," she says. "It can be dressed up or down all summer long." She's got some advice for your bikini vs. one-piece conundrum, too — go with both. "Mix it up!" she says.
Jeanne Damas
Founder, Rouje
Every summer, Jeanne Damas rents a big house somewhere near the Mediterranean with her friends. The model, actor, and founder of clothing brand Rouje looks forward to the event all year (especially during the winter), and with good reason. "I can completely disconnect from work and just enjoy sunbathing, reading, and apéros," she tells TZR.
While disconnecting, she keeps her style low-maintenance."Since most of my days there are spent lounging by the pool, I'm usually in a bathing suit," she says. "At night I'll keep things simple and elegant with a wrap dress and pair with vintage shoes or high-heeled espadrilles." She defines her look as "chic and effortless."
And, as the best summer days are certainly chic but especially effortless, Damas doesn't spend too much time in the kitchen. When preparing a meal, she keeps it easy and light, like a fresh salad with tomatoes, mozzarella, and peaches. "They are colorful, smell like summer, and taste the best in August," she says. "It's a perfect and easy way to impress my friends! And of course, pair it with a glass of Pastis."
When Damas isn't by the pool, she heads to the beach. There, her main focus is comfort. That's why she slips on a one-piece buttoned bathing suit (like the Alicia bathing suit from Rouje's new summer collection) and a wrap dress to wear over it. Easy, but so effective.
Tanya Taylor
Designer
Tanya Taylor's ideal summer means having it all. The fashion designer spends her work week in her New York office and escapes to her house in East Hampton on Friday at 1 p.m. "This little routine is the best of both worlds," she tells TZR. "There's such a buzz in the air during a warm night in the city. But then the weekend comes and I love retreating to the Hamptons. Being on the beach makes every weekend seem like a mini vacation." It's the perfect setting to relax and unwind. "When I return to work on Monday I feel rejuvenated for the week ahead (and ready to do it all over again)," she says.
On really beautiful summer nights, Taylor can be seen cooking in her light-filled kitchen with the doors open while her friends swim in the pool. "Maggie Rogers' new album is playing on the stereo and Aperol spritzes are flowing in pastel-colored glasses," she says. "I am making a Mexican corn salad with cilantro, red pepper, red onion, cotija cheese, and lots of lime. The kitchen smells of citrus and I put the salad in individual color-dipped clay bowls for everyone to enjoy poolside."
If that doesn't sound dreamy enough, Taylor's perfect beach is "entirely secluded, with crashing waves, white sand, pink-striped umbrellas, periwinkle beach chairs, and lots of sand toys to build a castle" for her son, Palmer. There, she is makeup-free with air-blown curly hair — "super relaxed but still polished." Her summer style is all about a vibrant sundress (with a matching scrunchie), a flat slide in a pop of color, and a summer wicker bag. Taylor doesn't believe in taking summer style all too seriously, which is why she pops out her Chanel bag in the shape of a life preserver from the Cruise 2018 collection the second it gets warm.
Lisa Aiken
Fashion director, Moda Operandi
Lisa Aiken loves variety. That's why the fashion director for Moda Operandi would prefer spending her summer "taking multiple mini breaks to cities across Europe" than spending too much time sitting in just one place. "Some trips [are] more focused on exploring or relaxing, while others are more wild and fun," she tells TZR. "Think: Barcelona, Ibiza, Provence, Tuscany, Puglia, and Croatia." And while she's traveling the world, she's obviously thinking about clothes. "My style is relatively laid-back, which kicks up a notch during the warmer weather months," she says. "I'll be wearing vacation-ready pieces on repeat. Easy summer dresses, well-cut, one-piece swimsuits, and minimal flats." You can also spot her with her two constant summer companions: her husband and Ray-Ban Wayfarers, "in that order." No matter what other adventures she has planned, you'll likely find her with her other summer staples: a Loewe basket bag and her favorite summer drink, a margarita. When's she's not soaking up the sun on her ideal beach (one she describes as "long, wide, and uninhabited"), she may be sourcing local ingredients to craft super fresh salads. Because Aiken, along with anyone who's lived through their share of London summers knows, "If it's mildly warm with a glimpse of sunshine… I have to eat al-fresco."
Vika Gazinskaya
Designer
The deck was seemingly stacked against Gazinskaya as a designer. She was born while the Soviets were still in power in her native Russia and grew up interested in fashion in a country that had no fashion industry.
Now, 10 years after launching her line — basically making the clothes herself and wearing them to European fashion weeks — she shows abroad, her buyers include the industry's most prestigious points of sale, and there's more of a fashion scene in her home country. That means Gazinskaya actually gets to unwind a little during its short but lovely warm season. While she's not opposed to a Maldives beach escape, she looks forward to "hot summer days in Moscow that end with long walks in the evening just as the day begins to cool down," she tells TZR. Her summer uniform? "A lightweight cotton dress or a delicate floral silk dress that emphasizes [her] waist, or cotton pants and beautiful tops that highlight the shoulders and collarbone. And of course comfortable flat sandals, straw bags, and sunglasses."
When she gets home, she'll have a glass of Bordeaux — no summer cocktails for Gazinskaya — and balance it out with a light dish compatible with her lectin-free diet, like the pesto guacamole from Steven Gundry's Plant Paradox. "All you need is to mix in a blender a ripe avocado, a lot of green basil leaves, a handful of cilantro leaves, generous amount of virgin olive oil and a tablespoon of MCT oil, squeeze the juice from the lemon, and add pink Himalayan salt," she says. "I like to dip broccoli, asparagus, cauliflower, or any green crunchy vegetable. It is delicious and very healing for the gut. The dish has an amazing green color and perfect taste for summer." All of that pairs well with the ever-optimistic Gazinskaya's other summer staple, which is harder to come by in the depths of a Russian winter: "a good mood!"
Ken Downing
Former Neiman Marcus fashion director, chief creative officer of Triple Five
Ken Downing knows exactly what he'll be doing this summer, and he's happy to describe it to you in detail. "My ideal summer consists of spending as much time as possible at my country house outside of Dallas, on Cedar Creek Lake in Tool, Texas," he says. Yes, it's about as far a cry from Downing's home in New York City as you can get, and yes, that's exactly the point. "[It's] a little small town that I enjoy escaping to … living lakeside in the peace and the serenity of the bunnies, and the ducks, and the birds, and the occasional fox that wanders down from my acreage and shows himself."
It's certainly a change of pace for Downing, who recently left his post as fashion director at Neiman Marcus to take on a new job as chief creative officer at Triple Five, where's he's using his talent to develop upcoming retail giant American Dream in New Jersey. "Being able just to go and wander without a care, and be at one with nature is such a special moment," he says. "Living the hectic lifestyle of living on an airplane, and now being full-time in Manhattan, and just one's job is always nipping at one's heels... it's nice to be able to just kind of escape."
It may shock some to hear that Downing's must-have item of summer is none other than a luxurious sweater — but there's a reason for that, too. "Summers in Texas are brutal," he says. "We keep our interiors chilled to a point of almost frigid. So I take a point from Michael Kors. There's nothing I love more than a lofty cashmere turtleneck with swim trunks and flip-flops."
He's serious about his seasonal footwear, too; he considers flip-flops to be a "365 day a year proposal" and can instantly name his favorite pair (they're fluorescent orange, and they're wonderful). He's not sure who will be over on any given day, only that someone probably will be ("the house is just always open to friends," he says). Should that be you, make sure to say hello to his cat Lily, whom he affectionately likens to Linda Evangelista. "She's a loving cat, but she loves to pose," he says. "And when people come over she is very busy showing her modeling skills to anyone that will pay attention to her."
Phyllis Chan & Suzzie Chung
Designers, YanYan
Phyllis Chan and Suzzie Chung are the cool girl designers behind YanYan, an emerging knitwear brand coveted by fashion insiders since its launch in March 2019. Needless to say, it's been a busy few months for the best friend duo, who spend most of their time in Hong Kong — meaning a getaway feels like it's due. Their destination of choice? Taipei, Taiwan.
"Taiwan's pretty hot, but Taiwan's really fun in the summer," Chan tells TZR. "Last summer we went higher up into the mountains and walked around a little bit. They have hot springs, and the food is really amazing."
"There's a lot of street food, there's a lot of independent artists, and little designers that make a lot of interesting crafts," Chung adds. In other words, it's a bona fide trove of inspiration that makes the trek well worth it.
Chan and Chung agree that their favorite travel companions are each other ("we're always together," Chan says), though there are other key items they keep with them at all times during the summer — namely, sunglasses, handheld fans, and lip balm. "Sunglasses and lip balm are probably the biggest, most important thing," Chan says. Though, she later adds, there's also their most recent obsession. "Suzzie just bought eight pairs of Tevas," Chan says. "We're obsessed — you won't find another group of people that are as obsessed with their sandals as us. ... I mean, we went nuts."
That's not all the two agree on. Ask them about their go-to summer uniform, and they both confirm that florals and bright colors are a must, as are no sleeves. Chan likens their personal aesthetic to that of a "Florida grandma," and adds that her current sartorial must-have is anything linen — after all, it gets hot in Hong Kong.
The only time they seem to differ in opinion is when it comes to their seasonal beverage of choice. "Margarita," Chung chimes.
"I was probably going to say [Aperol] spritz," Chan says. But then: "We can go with margarita," she decides. "A not very sweet margarita."
Photographer: Dana Scruggs
Model: Madisin Rian for Supreme
Contrib. Senior Style Editor: Mecca James-Williams
Fashion Market Assistant: Ryan Gale
Makeup: Tiffany Patton at Bernstein & Andriulli
Nails: Elizabeth Garcia using Zoya
Video Director and Editor: Ben Hype