Trendy Clothes That Seem Expensive But Are Actually Cheap As Hell On Amazon
Chic accessories, Y2K fashion, matching loungewear sets — it's all here.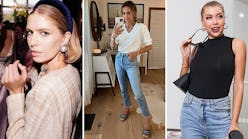 We may receive a portion of sales if you purchase a product through a link in this article.
Staying on top of what's trending in fashion is as easy as it is addicting. Actually incorporating those hot new styles into your wardrobe? Not so easy. The latest "it" pieces can be hard to find, and astronomically priced if you do. Also, what looks amazing while scrolling through Instagram doesn't always lend itself to everyday wear. These trendy but extremely wearable pieces from Amazon, however, will eliminate all of these frustrations — mostly because even though they look expensive, they're actually cheap as hell.
As soon as a look takes off, you can be sure to find variations of it on Amazon. Vendors and choices abound, so finding the style you're interested in isn't the problem; it's surfacing well-made pieces that exude the same kind of quality as the industry's top brands that's key. It's also tough.
Don't worry, though. This'll make it easy for you: A meticulously researched list of eye-catching pieces that not only reflect what's trending — '90s accessories, Y2K fashion, and matching loungewear sets, to name a few — but also look and feel expensive. Think influencer-approved looks from the moment's hottest brands — not some luxe-seeming find no one would ever guess you scored hella cheap on Amazon. Keep scrolling and see for yourself.
This article was originally published on