Saint Laurent Flooded Our Twitter Feed: See The 7 Tweets You Need To Read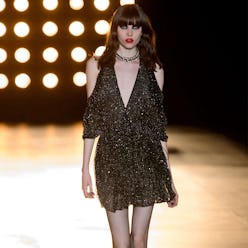 If you needed further proof that Hedi Slimane is staying firm at Saint Laurent, look no further than the brand's Twitter account. In a series of rapid-fire tweets this afternoon, the French fashion house announced plans to show part 1 of their men's and women's Fall 2016 collections at the Palladium in Los Angeles on February 10, with part 2 of the women's collection to follow in Paris on March 7. Post-announcement, the brand followed with a few fun facts including Hedi Slimane's collection inspiration serving as a tribute to the strong music scene, calling out that 2016 marks the 10 year anniversary of ''Hedi Slimane Diary". It was also made mention that the 'Saint Laurent At The Palladium' video campaign speaks to the progressions of Hedi Slimane's diary into a new motion portraiture format. For a full rundown, check out the series of must-see tweets below.
Photo: ImaxTree
Saint Laurent Takes To Twitter
@hedislimaneworld
SAINT LAURENT AT THE PALLADIUM LOS ANGELES FEBRUARY 10TH 2016
@hedislimaneworld
SAINT LAURENT FALL 2016 MEN AND WOMEN PART 1 WILL BE PRESENTED IN LOS ANGELES ON FEBRUARY 10 TH 2016
@hedislimaneworld
SAINT LAURENT FALL 2016 WOMEN PART 2 WILL STILL BE PRESENTED IN PARIS ON MARCH 7 TH 2016
@hedislimaneworld
FRANK SINATRA WAS THE FIRST PERFORMER ON STAGE AT THE HOLLYWOOD PALLADIUM WHEN IT OPENED ON OCTOBER 30TH 1940
@hedislimaneworld
''SAINT LAURENT AT THE PALLADIUM'' IS A TRIBUTE TO THE STRONG MUSIC SCENE IN LOS ANGELES
@hedislimaneworld
2016 MARKS THE 10 YEAR ANNIVERSARY OF THE ''HEDI SLIMANE DIARY"
@hedislimaneworld
THE ''SAINT LAURENT AT THE PALLADIUM'' VIDEO CAMPAIGN IS ABOUT THE PROGRESSION OF HEDI SLIMANE'S DIARY INTO A NEW MOTION PORTRAITURE FORMAT.