These Cheap, Stylish Clothes On Amazon Look Way More Expensive Than They Are
You'll be surprised by the quality.
The Zoe Report/Amazon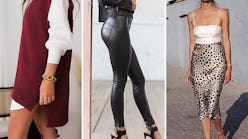 We may receive a portion of sales if you purchase a product through a link in this article.
If street style has taught us anything, it's that great fashion isn't about a price tag; it's about curation. And if the digital fashion landscape has taught us anything, it's that Amazon is a surprising resource for those cheap, stylish clothes that look way more expensive than they are. Best of all, with a lower overhead and wider product selection, Amazon is able to keep their prices fiercely competitive. Additionally, an ever-increasing roster of big-name brands and indie designers offers lots to choose from.
When shopping with curating your wardrobe in mind, keep an eye out for inexpensive pieces that either tap into current styles or hit classic marks; mixing timeless items with those that are trendier can help keep your closet feeling fresh, and will give you so many more styling possibilities.
And don't forget: Just because an item is inexpensive doesn't mean it isn't worth much more. Case in point? Each piece featured in this edit is lauded by thousands of Amazon reviews that champion their high-quality look and feel.
Now, get scrolling for a curated selection of the cheap, stylish clothes on Amazon that look way more expensive than they are — perfect for refreshing and revamping your wardrobe without breaking your budget.