Red-Carpet Worthy Underpinnings That Every Woman Should Own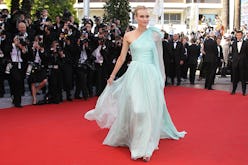 In anticipation of the Oscars, we've rounded up the necessities to make an ensemble suitable for the red carpet—in an effort to avoid an embarrassing fashion malfunction whether you're going to the Academy Awards or your BFF's wedding. Here, five stylist-approved essentials that ensure you'll look flawless for a big event.
5 Styling Essentials
1. Fashion Tape
Use styling tape to keep a low-cut top in place or for altering a last-minute hem.
2. Seamless Thongs
A visible panty line is a major fashion don't–always opt for a seamless thong.
3. Deodorant Sponge
Always give yourself a once-over with a deodorant sponge, especially when wearing black.
4. Gel Petals
A photo flash can make any material transparent—use these gel petals to ensure extra coverage.
5. Lint Roller
A lint roller is a must 24/7, but particularly for special occasions when you want to look polished.