Hands Down, This Is The Coziest Winter Coat Trend
Hunter Abrams/BFA/Shutterstock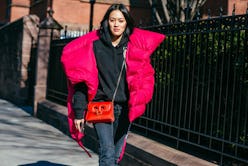 Designers sent a flurry of heavily padded puffer coats down the runway over the past few seasons, but there's one that tops them all when it comes to coziness: the sleeping bag coat. Whether you're hitting the slopes or are in search of a plush topper to bundle up in, the iconic and cozy sleeping bag puffer coat is the 2018 style to try for winter. Heftier than your typical puffer, wearing a sleeping bag coat is as close as it comes to staying in bed all day while you're out and about.
The silhouette was first popularized during the early '70s by designer and style icon Norma Kamali, who dreamt up the oversized outerwear silhouette while on a camping trip, going so far as to slice up her own sleeping bag to devise the practical yet stylish coat seen today. "When I got home I cut my sleeping bag and didn't waste any [material]," explains Kamali. The designer wanted to investigate the technology behind the sleeping bag's insulated design that traps heat and harness it in her own creations.
Since the coat's original debut, Kamali has continued to reintroduce the puffed-up coat each season, trying new colors and lengths to keep the design feeling fresh. Other designers have followed suit, the latest iteration being a full-length hooded design created by Pierpaolo Piccoli in collaboration with Moncler. As temperatures dip, these coats offer a practical way to make a style statement (because you shouldn't have to freeze to look great during winter). Whether you're willing to wear a floor-length design or looking for something a bit more laid-back, this is the coziest coat trend of winter. Below, find three outfit formulas to inspire you along with five of the best versions to shop now.
Classic Black Coat + Menswear Shirt + Fitted Gingham Skirt
If you're looking to win winter this time around, start by experimenting with an unexpected outfit combination that mixes polished and sporty pieces. Take a black sleeping bag coat up a notch by choosing workwear staples like a striped menswear-inspired shirt half tucked into an asymmetrical gingham skirt like stylist Rachael Wang, above. To keep with the cool approach to winter style, be sure to throw on a pair of chunky sneakers, thick black tights for extra warmth, and gold sculptural earrings.
Leather Dress + Color Coordinated Coat + Playful Accessories
Ditch your standard approach to winter dressing by introducing a dose of color into your everyday routine. A puffed-up, belted coat in a wash of pale lavender or a soft shade of nude is just what you need to shake you out of a winter inclination to wear only black. When deciding what to wear with your padded coat, look for a leather dress in a complimentary hue like a pop of pink or a deep burgundy. Play up the glam factor with a pair of dangly crystal earrings and a pair of bow-embellished pumps.
Brightly Colored Coat + Printed Floral Dress + Statement Bag
This season, try embracing a variety of bold autumnal hues to carry you through the winter. Longer silhouettes are not only ideal for extra-chilly days, but they're also eye-catching, especially in an on-trend shade of burnt orange or a vibrant splash of red. For a street style-worthy ensemble, slip on a romantic dark floral dress that can be worn to work with knee-high boots or dressed down with a pair of sneakers. As a finishing touch, style your sleeping bag coat with a statement mini bag and chain link earrings.
Shop More Sleeping Bag Coats