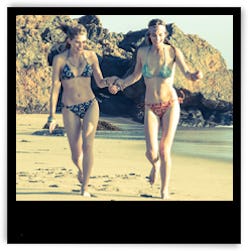 Living on the West Coast has many benefits (excuse the humble brag), but few are as sublime as being situated in close proximity to the beach! Sharing our appreciation for feeling the sand beneath your toes are Mike and Alex Faherty, the founding duo behind Faherty Brand Swimwear. Launched just this week, the eco-friendly label features a dozen-plus prints and colors inspired directly by the shore.
Not only is this swim series visually fetching, but socially responsible too. Each suit is made of recycled polyester from plastic bottles (approximately 7 bottles per piece) which makes them a no-brainer investment to scoop up during Earth Month. Designed in string, brief, hipster and one-piece forms, the collection will cater to all body types and style preferences. Did we mention the Faherty brothers make dapper mens trunks too? Obsessed! This swim season, don't just get your feet wet, but dive into the water head-first suited up in an eco-conscious ensemble.
Availability: Faherty Brand Swimwear ($88-$195). For additional information, visit Fahertybrand.com.