What To Know About Gucci's New Creative Director Sabato De Sarno
Get to know the Italian designer.
@gucci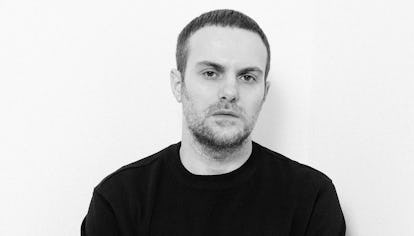 After a buzzed-about Haute Couture week — Victor & Rolf, Schiaparelli ... you know the viral images — the fashion world woke up to yet another delightful surprise early Saturday, Jan. 28. Following much speculation and guessing about who would take the helm of Gucci, the fashion house named Sabato De Sarno as its new creative director. This announcement came just over two months after Alessandro Michele's sudden departure from the Italian fashion house following a 20-year tenure.
De Sarno will guide and shape Gucci's women's, men's, leather goods, accessories and lifestyle collections, reporting to president and CEO Marco Bizzarri. "I am deeply honored to take on the role as Creative Director of Gucci," said De Sarno in a press release. "I am proud to join a house with such an extraordinary history and heritage, that over the years has been able to welcome and cherish values I believe in. I am touched and excited to contribute my creative vision for the brand." The 39-year-old designer also took to his own Instagram to share the highly anticipated news, writing: "I'm proud, honoured, touched and excited. #Gucci."
This move marks De Sarno's first creative director title. But make no mistake, the Italian designer holds many prestigious credentials. Hailing from Naples, De Sarno began his fashion career at Prada, followed by Dolce & Gabbana, where he was head designer for its women's knitwear category. Then, under the tutelage of Pierpaolo Piccioli, De Sarno served a 12-year run at Valentino, most recently as its fashion director. During his time, he was responsible for both its women's and men's departments.
De Sarno has some big shoes to fill as the successor of Michele, who garnered attention for spearheading genderless fashion and left a highly regarded legacy at Gucci. But, the luxury powerhouse foretells a bright future with the industry veteran at the helm.
"I am delighted that Sabato will join Gucci as the House's new Creative Director, one of the most influential roles in the luxury industry," Bizzarri said in a press release. "Having worked with a number of Italy's most renowned luxury fashion houses, he brings with him a vast and relevant experience. I am certain that through Sabato's deep understanding and appreciation for Gucci's unique legacy, he will lead our creative teams with a distinctive vision that will help write this exciting next chapter, reinforcing the House's fashion authority while capitalizing on its rich heritage."
De Sarno will debut his collection for Gucci during Milan Fashion Week Spring/Summer 2024 next September. Mark your calendars now — this will be a show you don't want to miss.