Do Reformation's Mason Pants Live Up To The Hype? TZR Editors Weigh In
You've seen the style all over TikTok.
Erin Lukas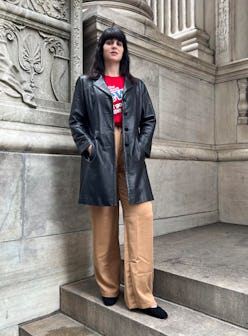 We may receive a portion of sales if you purchase a product through a link in this article.
Type "Reformation Mason Pants" into TikTok's search bar and you'll find yourself endlessly scrolling through videos of users praising the power of these trousers. Typical comments from fans include how comfortable they are and how they complement a variety of body silhouettes. After reading countless online comments about this style, we at TZR figured: Why not try out the bottoms ourselves to see if they actually live up to the internet hype? Luckily, finding editors to participate in this review session was quite easy, as everyone was looking for a new pair of pants to work into their seasonal wardrobe — spoiler alert: the Masons are perfect for transitional weather.
Before we get into the nitty-gritty details, the overall highlights to know about this Ref style is that they are super lightweight — so if you're looking for a thick pair of winter trousers, these aren't it — and come in a high-waisted fit. The bottoms are offered in 11 different colors, from your classic black hue to a cool blue-gray tone dubbed Slate, which gives you a variety of styling options. In fact, our three editors each selected a different shade, in different sizes too, to try on. Ahead, we give our honest feedback on the Mason pants, plus ideas on how to style them if you need dressing inspiration. Suffice it to say, the trousers did, for the most part, live up to the hype.
An Office-To-Work Event Look
"My wardrobe goal this year is to break out of my denim comfort zone and these trousers — I wore a size 6 in the camel color — are a great start. The wide-leg silhouette is super flattering and comfortable compared to the rigidness of jeans. For a day of work, I wore the Ref pants with a vintage graphic tee, a leather blazer jacket, and my trusty Maryam Nassir Zadeh ballet pumps. The pants carried me through a busy day where I ran around to beauty events.
For the weekend though, I plan to pair the bottoms with a blazer and sneakers, for a slightly more relaxed outfit. As I continue to conjure up my springtime outfits, I know these trousers will play a starring role, thanks to the camel hue and lightweight fabric." — Erin Lukas, deputy beauty editor
A Work Or Weekend Look
"I'm true to size in Reformation so I wore the Mason pants in a size 2, sycamore stripe style. I love the high-rise fit, color, and breathability of the pants — they sat comfortably above my belly button while I was hunched over at my desk. On this day, the material worked well for the warmer temperatures of winter in NYC and, come spring, I know these bottoms will be even more versatile, whether they're paired with a basic tank or a sheer top. Here, I opted for a nature-inspired color palette by placing the trousers with a Simple Retro brown blazer and knit turtleneck from 3.1 Phillip Lim. For a hint of casualness, I styled them with New Balance sneakers.
As you can probably tell from the photo, the pants legs were a bit long on me and dragged on the floor, but, to my surprise, I was not tripping on the hems as I walked around the city. However, I still plan to take off about three-inches of fabric — I am 5'4 and 3/4 for reference — so that they hit a smidge past my ankles." — Marina Liao, senior fashion news editor
A Cozy Transitional Weather Look
"This is my first time trying a pair of trousers and I think it went OK! I wore the Ref pants in a size 12, petite, in the olive oil hue. To make the styling leap a little easier on myself, I stuck with my go-to elements: an oversize top and my favorite colors, green on green on green. Feeling good about this look, I then snapped a photo right before I went out for drinks with a friend.
The pants material is light, which I love and think is perfect for spring weather. However, some personal cons for me included how easily the trousers wrinkled — I have to give them a meticulous steam — and the overall fit. Even though I opted for the petite size and wore three-inch heels, the hems still swept the floor. The crotch area, too, was a bit long, though I know all of these minor issues can be fixed with a quick trip to the tailors. Once I make all these adjustments, the Mason pants will be an easy option for special occasions." — Samantha Scott, newsletter editor + strategist