Law Roach's New Gig Lets Him Share His Style Advice With Everyone
You'll want to hear what he has to say.
John Phillips/amfAR/Getty Images for amfAR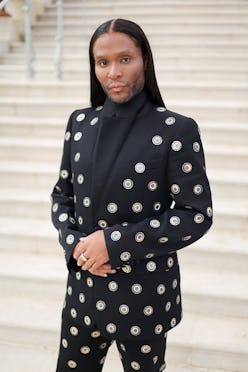 Law Roach is living his best life. Ever since that Instagram post (you know, the one where he announced his retirement from celebrity styling), he's been booked and busy. A few days ago, he attended an exhibition at the Nita Mukesh Ambani Cultural Centre in Mumbai — with Zendaya as his date, no less — and right before that he made his press rounds throughout New York City. His string of new projects includes a partnership with mega retailer T.J. Maxx, allowing Roach to share his expert fashion advice with a wider audience. Step one? Hosting the chain's first-ever style presentation, held on a scenic rooftop in Brooklyn on March 29, to showcase spring trends and designer goods from T.J. Maxx's The Runway section (from which you can shop premium labels like Jimmy Choo, Valentino, and Chloé at discounted prices).
Roach's collaboration with the chain comes from a special place in his heart, as his connection with the retailer extends back to his pre-styling days. "Years ago, when I was student, my best friend and I stumbled into a recently opened T.J. Maxx [near us] and found these two designer sweaters. We each bought one in different colors and this was a big deal for us," he recalls to TZR. "I had no money and T.J. Maxx was able to provide me this small piece of luxury. It was one of the first designer items that I could have, that I could afford. I think I still have the sweater in storage because it's special to me."
For Roach, talking about fashion, curating outfits for others, and spotlighting style trends is all in a day's work for the self-anointed Image Architect. After all, he was in the business of dressing the most high-profile stars like Celine Dion, Megan Thee Stallion, and Zendaya until very recently. But now it seems he has far more interest in sharing his knowledge and experience with the public at large rather than gatekeeping for the select few.
When TZR asked Roach what summer 2023 trends one should pay attention to, he quickly called out vibrant colors, like a bright blue or marigold yellow. "I think when you put on a bold shade — if that's your thing or if you are brave enough to do it — it changes your mood, your attitude, and it also brings other people joy," he shares. One fashion trend Roach is eager to see fall by the wayside, however — and this might come as fighting words to some — is the oversized and super-baggy look. "I'm just a fan of people wearing clothes that fit and that are tailored. This looks more sophisticated and sharp to me," he says candidly.
Should you prefer to spend your energy and money on more timeless items, Roach also has a piece of smart shopping advice for you. He says the top three products to invest in are: a coat (no matter what climate you live in), a versatile black dress, and a classic everyday bag — which, of course, means something different to everyone. "It's a preference thing," he says when we ask for specifics. "For me, it would be a mid-size purse, something that you can take from day to night, since it's more versatile and gives you the most bang for your buck. Additionally, I like to think of [accessories] as things that other people, when you are done with it, can take and give it another life. A great handbag can last forever."
While Roach is very forthcoming with his style tips and advice, there is one topic of discussion he will not touch — and his empathetic response might move you. The Image Architect acknowledges that with fashion advice, there's a fine line between providing guidance and dictating what someone should/should not wear. "I think there's been so many books where people like me tell other people what they shouldn't do," he explains. "It's 2023 — do you really think that me sitting here, as a man, should be able to have any power to tell a woman what she can and cannot wear? Absolutely not."
Perhaps this is why Roach is so successful at what he does. He has a symbiotic approach with his clients to bring out their inner strengths and confidence through clothes. (If needed, see Kerry Washington in this red dress or any of Zendaya's outfits for imagery reference.) Now as a free agent, Roach wants to sprinkle his sartorial magic on everyone he can. "I think that clothes are powerful and they have the ability to transform you and transport you to different places," he says. "My message is helping people understand that power. If I work with a bride and she wants to wear a rainbow color wedding dress with tinsel and sequins, I'm all for it. We're going to figure out the best way to make her feel and look the most beautiful."