This Insta-Famous Brand Added Jeans To Its Lineup & They're The Perfect Classic Styles
Courtesy of Jeu Illimité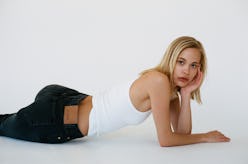 For a moment there, it seemed like skinny jeans would reign supreme as the denim silhouette of choice. And while the style will always be a go-to option, the rise of more relaxed and vintage-inspired jeans has people returning to the classic silhouette once again. That said, the search for the perfect fit (and feel) can often be a tough one, but with Jeu Illimité's new denim collection, it just got easier.
If you take a glance through Jessie Andrews' Parisian-inspired line — as well as her other Instagram-famous brands Bagatiba and Basic Swim — you'll notice one thing: The designer knows exactly what she's doing. Her brand Jeu Illimité has gained a following for its classic and uncomplicated designs like the It girl-approved Cherie Mini Bag — and its latest addition of classic pieces falls right in line.
The launch of Jeu Illimité's denim collection, which is available on the brand's website, proves that Andrews is on a roll. Available in classic blue or vintage black, these $220 jeans are the designer's reimagined take on her favorite vintage style. This classic design features a high waist and a button fly with custom Jeu Illimité hardware to give it a modern touch. The brand's jeans are also sustainably made using deadstock denim — which means once each size is sold out, the style will be remade with another deadstock fabric.
For a classic and timeless look, opt for a pair of these jeans in your standard size. You can dress them up with your favorite blouse, blazer, and a pair of heels for a look that'll take you from a casual day at the office to happy hour after. Or, sport it with a classic white T-shirt and sneakers for an easy and effortless ensemble to wear during the weekend.
Another cool way to wear these jeans is on the looser side. As the product description suggests, you can get a pair two sizes larger for a baggier, low-slung look that perfectly captures the essence of '90s grunge. If you do decide to wear them in this surprisingly chic way, try styling them with a romantic ruffled top to balance the edginess of the fit.
Now, scroll down to shop Jeu Illimité jeans below. There's no doubt that these will be in your closet for years.