ICYMI, Everyone Is Wearing Their Loafers With Socks Right Now
And we're completely loving it.
Edward Berthelot/Getty Images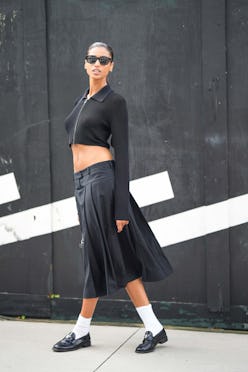 We may receive a portion of sales if you purchase a product through a link in this article.
While socks and loafers together are hardly a fresh concept, the combination has been feeling particularly on trend lately thanks to fashion insiders and celebrities alike. Perhaps one can trace the look's recent upward trajectory to Bella Hadid — who was spotted off-duty this past June in a sporty zip-up knit and slim cut flat leather shoes worn with, you guessed it, white ankle socks. Her outfit felt like a direct hat tip to the O.G. bobby sockers of the 1950s who popularized the footwear style, while simultaneously scandalizing their parents for showing so much shin. It's incredible how one generation's act of rebellion can become another's charming nostalgic nod.
You could also blame the comeback on the industry's recent fascination with all things vintage J.Crew resurgence. The company's new creative director and head of design Olympia Gayot has been mining the archives for classic '90s prep moments, which are also catalogued beautifully on Lostcrew, the Instagram account dedicated to the label's catalogs of yore. Past and present meld perfectly in the brand's latest offerings, including — naturally — plenty of fantastic loafers and socks. "I love the J.Crew Winona lug sole loafer," says Chrissy Rutherford, a brand consultant and content creator. "And their ribbed socks are just perfect."
Bella Hadid in Nomasei loafersGotham/GC Images/Getty Images
Unlike Hadid, Rutherford is taking a more grown-up approach to styling her socks and loafers. "Being a Catholic-raised public school girl, I always romanticized the Catholic school girl uniform. Loafers and socks were always meant to be worn with a pleated mini and a boxy sweater in my eyes," she says, "But as I'm in my mid-30s, it's a bit on the nose. So, lately I find myself wearing my loafers and socks with pleated trousers that hit perfectly at the ankle with a cropped top, or I'll do a fitted mini dress and a trench coat layered over."
Influencer Dylana Lim Suarez also sees the two pieces as endlessly versatile, opting to wear them with ultra-feminine and masculine ensembles alike. "The ideal item to pair with my socks and loafers are mini shift dresses and mini skirts because I love a leggy moment and I love how a sock and loafer combo plays this up," she explains, noting that alternatively, the pairing also works quite well with tomboyish trousers and a baseball cap. "I think it's such a sexy look without trying too hard." The mood for the latter is very "Diane Keaton in Annie Hall," Suarez says. In other words: nothing short of iconic.
In particular, designer Jamie Haller's loafers have hit the zeitgeist thanks to being worn endlessly by fashion insiders like Emily Ratajkowski. Leandra Medine, who pens the newsletter The Cereal Aisle, has recently called the footwear line out as well, pairing a moccasin-inspired design with socks, a look Haller loved. "The way she styled the camp loafers with a rolled up jean overall and ribbed socks proves once again how versatile this shoe can be, not to mention seasonally transitional," she tells TZR, emphasizing that the one's choice of sock should not be an afterthought. "I like demure socks sometimes, sheer ones, or ones with a little ruffle. I think this is a fun contrast to the more masculine design of the shoe. I also like chunky socks that make for the perfect sweater weather socks." In short, this means that once you hone in on your loafers of choice (which can oftentimes be an investment) hosiery is an easy way to switch things up.
As for said loafer of choice? Suarez, for one, sticks to a formula. "I love a simple leather style that has a masculine feel but still a slimmer fit," she says. "I don't like the sole too thick, and usually I [skip] metal embellishment or tassels." But if you're looking to diversify a bit, there's plenty of options in the Spring 2024 collections as well, from platform silhouettes at Gucci and Burberry to natty boat shoes at Miu Miu. But no matter which option you go for, wearing it with socks seems like the best way forward right now. As Rutherford says: "It feels playful, little sexy, and little sweet — but it's always polished."
Master the style yourself with the foolproof pairings below.