The New Essentials: 6 Classics That Should Top Your Spring Shopping List
Ben Ritter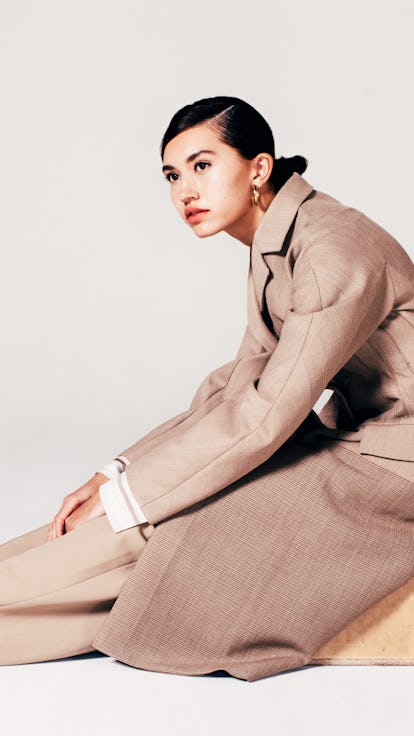 Essential is a word that applies easily to water, food, and shelter — you need them to exist, after all. But unless you're gearing up for an arctic expedition, what you put on every morning isn't key to your survival. Still, the clothes you buy, wear, and hang in your closet are necessary in a different way. And without a uniform, you're left with the same decision every time you wake up: How are you going to present yourself to the world? That existential pressure led Steve Jobs to adopt his signature turtleneck, but there's no need to have a closet full of repeat pieces. If you spend 2019 investing in the right wardrobe basics, putting together a killer look will be refreshingly easy.
Here's the thing to keep in mind: Even the most straightforward fashions change over time. The button-down you wore in 2002 isn't the same as the one you want to wear now; hemlines rise and lower; collars shape shift from round to pointed; fits oscillate between skin-tight and comfortably oversized. That's why you'll want to take notes on the key pieces to add to your wardrobe this year, as explained below, where seven timeless staples are presented in their most current iterations.
Whether it's your intention to Marie Kondo your entire wardrobe and start from scratch, or you're just looking to add in a few versatile staples into your current rotation, there's no time like now to take a step back and figure out exactly how you want to transform yourself in the months ahead — and not in a juice cleanse sort of way. Investing in pieces that are classic yet entirely in the now is the type of shopping that eschews the risk of buyer's remorse. These seven pieces signal that you're hip to the ever-changing whims of the fashion world, but also remain true to the concept that sometimes basic is just better.
Consider a trench coat a forever hero piece. Your grandma likely owned one, and your mother too, but now it's your turn to take the khaki-hued plunge. In 2019, the trench has been revitalized with new fabrications and distinctive details starting with none other than Burberry, where Ricardo Tischi offered his own take on the iconic brand. A delicate shoulder ruffle, like this one by Khaite below, a contrasting waist belt, or extra-skinny lapels all take a sartorial step away from a clean A-line, without feeling like you're leaping into the unknown.
Head-to-toe neutrals was a trend that dominated both runways and street style this year, so consider keeping your entire look pared down to beige, white, cream, and black.
A tonal, double-layered trench takes a step away from the ultra-preppy, offering an edgier alternative.
Shop the trend: Adam Lippes Trench Coat ($2490); Nanushka Chiara Jacket ($930); Burberry The Chelsea Trench Coat ($1990); Zara Trench Coat ($119).
Skinny jeans will never go out of style, but for a current revamp of your denim closet, consider investing in a high-waisted style with a wide cuff at the bottom. Not only is it ideal for showing off your favorite footwear, conveniently enough, there's no tailoring necessary. A contrasting cuff is also a subtle way to touch on the utilitarian workwear-inspired dressing that appeared on runways from Fendi to Sies Marjan.
If your jeans don't come designed with a cuff already, it's an easy styling trick to DIY, especially for jeans with a tapered or straight leg.
For a modern workwear alternative, pair your jeans with polished dark denim on top.
Shop The Trend: Levi's Ribcage Jeans ($98); J Brand Joan Jeans ($278); JW Anderson Faded Jeans ($590); Lee Matthews Japanese Denim Jeans ($349).
All trends are cyclical, sure, but slip dresses are an elusive style that seem to stick around year after year. What makes the slinky style different right now is the fact that designs are going beyond simple and sleek. Taking cues from the era of Calvin Klein's iconic styles on the likes of Kate Moss and Caroline Bessette Kennedy, along with Victoria Beckham's "little Gucci dress", but looking for delicate details that add nuance to an old school favorite.
A slip dress is an ode to simplicity, so don't overdo it with accessories. Stick to sleek shoes and a delicate necklace or pair of sparkly earrings.
Shop The Trend: Oresund Isis Drawstring Black Dress ($795); Asos Curve Delicate Slip Dress ($83); Ganni Cameron Dress ($276)
If you've spent any time in the corporate world, odds are you've broken out slingbacks for a meeting or two. They're the utilitarian heel if there ever was one: more comfortable than a t-strap or pump, and usually just about getting down to business. But, now the heel has gone through a cool resurgence, with indie brands like Maryam Nassir Zadeh choosing to create their own funky fabrications.
Sleek snake leather is a cool contrast with a simple, white cap toe.
Shop The Trend: Ganni Snake Slingbacks ($280); Maryam Nassir Zadeh Estrella Slingback Sandals ($435); Reike Nen Ribbon Slingback ($420).
A quick game of word association with "white button-down" will inevitably lead you to the word "crisp." That's because a freshly starched, sharp collared top should be just that. But, the way to bring new life to this trend is to soften things up just a bit. Delicate ruffles and cool oversized shoulders give a more relaxed feel to this traditionally straight-edge item.
Shop The Trend: Ellery Richter Top ($595); Simone Rocha Anglaise Shirt ($590); Prabal Gurung Ellis Top ($1395)
It's been a few seasons now that power suiting has become an essential in every woman's wardrobe, but in 2019 more than ever, suiting has become increasingly versatile. It's not just about slim trousers and a black blazer. Instead, look for non-traditional silhouettes — say an extra long jacket or an asymmetrical skirt — that feel anything but overly corporate.
If experimenting with non-traditional shapes feels like a stretch for you, stick to a neutral palette. For a more classic shape, experiment with bold colors and zany patterns.
Shop The Trend: Jil Sander Fullerton Coat ($3408); Lorod Drop Shoulder Jacket ($1150); Tibi Ruched Canvas Blazer ($750); Rokh Layered Blazer ($850).
Photographer: Ben Ritter | Model: Chloe Vero/IMG | Model: Valerie Lundquist/Wilhemina | Stylist: Mecca James-Williams | Hair: Corree Moreno/ Visionaires Agency | Makeup: Holly Gowers using Glossier for Atelier Management Art Director: Becky Brown | Bookings Manager: Guillermo Perez | Photo Editor: Clare Thigpen