Why "Shop Less, Collect Better" Should Be Your 2020 Style Mantra
Christian Vierig/Getty Images Entertainment/Getty Images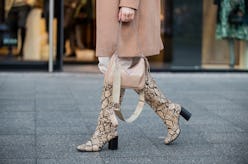 The start of a new year serves as a time of both reflection and goal setting. Chat to your friends and you'll find this often manifests in the form of personal objectives like eating healthier or prioritizing financial stability. However, for 2020, you may have noticed an uptick in conversation around resolutions that revolve around reducing environmental impact. The question that's on just about everyone's lips is how can I be more sustainable? Through the lens of fashion, this query has become central to industry figures, including designers, buyers, writers, and Instagrammers who are finding ways to prioritize the environment's well-being. But is it enough?
The term 'sustainable' is thrown around loosely, and determining what actions are actually eco-friendly is admittedly confusing. Thankfully, if you're making a concerted effort to learn about what you can do, then you're already headed in the right direction. However, if you're eager for more guidance on how to be more thoughtful with your fashion choices this year, continue ahead. Eight industry insiders share their top tips for thinking more sustainably as you settle into your resolutions for 2020. If a complete overhaul seems daunting, start small and tackle tips one at a time. Read their opinions on how to improve the planet while satiating your love for style.
Tips To Be More Sustainable: Shop Less, Collect Better
Stylist Neelo Noory spends several months out of the year traveling for work. "[Because of this] I've come to realize that I look my best when I travel because I have the least amount of options to choose from," she says. "Dressing well isn't simply the result of choice, it's through cultivating a collection of favorite pieces. These 'favorites' undoubtedly always make their way into my luggage." It's because of this realization that she's halted shopping for the most part. "I do like to buy pieces that I truly pine over, and I look for items that I know mean something more to me than just being new (because as we know, the newness of things wears out quickly)," she notes. "In any case, I challenge everyone to shop less and collect better."
Tips To Be More Sustainable: Shop Small And Local
"Make an effort to shop small both online and off," Eau Club Founder Emily Bibb says. The New Yorker recently started her own line of ethical essentials for the beach, pool, and bath. "Invest in designers and brands that are emerging and local to your city," Bibb suggests. "More often than not, they are producing in small batches (i.e. no excess inventory), working with local manufacturers, and partnering with other artisans in the area. Over time, you'll end up building a wardrobe that is unique and has a story behind it."
Tips To Be More Sustainable: Be Mindful Of Your Consumer Habits
Influencer Sai De Silva of Scout the City nods to mindfulness as her top way to be more sustainable this year. "I think sometimes we get too caught up in the instant gratification and cutting-edge trend aspects of fashion," she says. "In reality, choosing pieces that are made well and won't be found in our reject pile after a few months will actually add value to our lives instead of just taking up space. Additionally, when you have the urge to splurge on something that you may only wear a few times, consider renting the item or browse a vintage store instead."
Tips To Be More Sustainable: Create A Capsule Wardrobe
"I think a great way to practice sustainability as a fashion consumer is to create a capsule wardrobe with classic staples that are quality made and will stand the test of both time and trends," Danika Daly shares. Her PR agency (Danika Daly PR) represents brands that fulfill these types of gaps in our closets. As for those special one-off pieces? She suggests renting. "Nuuly and Rent the Runway Unlimited are great services to supplement your capsule closet with trend pieces for your everyday look and for statement pieces for events and special occasions," Daly says.
Tips To Be More Sustainable: Get Creative With What You Already Own
"Society has conditioned us to want more, when most of us already have everything we need," Lesse Official founder Neada Deters shares. Her collection of organic and sustainably made skincare essentials is a favorite among the fashion set. "I'm trying to shop less and make the most of the clothing and accessories I already own, to minimize the amount of energy and waste created by my closet habits. It's kinder to the planet and a great barometer for creativity and style. Maybe we can do it together."
Tips To Be More Sustainable: Remember That Consumers Create Markets
Breanna Warner, a marketing and creative consultant based in Los Angeles, nods to buying power as a key way to be more sustainable. "It is important how we spend our dollars, as we hold the buying power," she explains. "We need to support sustainable and circular brands. [This sends] a message about what is important to us as consumers and hopefully, in turn, will make an impact on the industry overall. Consumers create markets."
She's accomplishing this goal by supporting local brands in her community like Dakota Jinx, LOQ, Town Clothes, and Noto Botanics. "I also try to be conscious about my purchases and look to invest in classic, timeless pieces that will withstand trends as well as seasons," says Warner. "These staples can be paired with what you already have in your closet such as upcycled or recycled vintage pieces from Object Limited and Suay Shop."
Tips To Be More Sustainable: Think Of Alternatives To Shopping New
"This year I'm planning on throwing some clothing swap parties with my friends," Sargeant PR Founder Cory Sargeant shares. "It's a good alternative to shopping new and I love the idea of my clothes having a second life with my fashionable pals." Consider inviting a group of friends to all assemble pieces they no longer wear to trade for something that feels fresh.
Tips To Be More Sustainable: Put A Pause On New Clothing
"The number one way to be more sustainable with regards to fashion this year is to buy no new clothing," stylist Sissy Sainte-Marie says. "You could repair damaged clothing, resole your shoes, and carefully care for your garments to extend their life." The stylist, who works with several environmentally-minded brands, acknowledges that this may not be a realistic option for all, though.
"If you do buy clothing, buy used ... or buy new items in biodegradable and organically grown fabrics from responsible makers," Sainte-Marie suggests. "Choose more timeless pieces made with quality fabrics and durable construction you can wear for longer .... Avoid purchasing or accepting fleeting trends, novelty items, single use t-shirts, toxic materials, or any clothing that may end up in a landfill."
And Now, Shop Brands That Prioritize Sustainability