This Designer-Approved Fall Trend Will Completely Change How You See Your Closet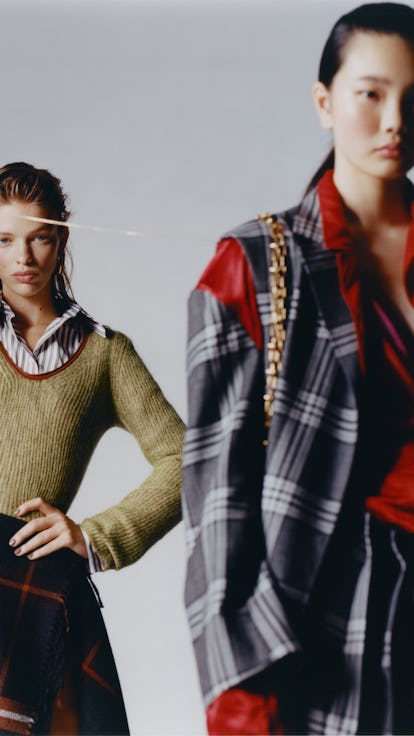 Sometimes it takes breaking down the familiar entirely, diminishing it to its most basic parts, to see it in a whole new light. Cold-weather fashion — rich layers, luxe cashmere, crisp suiting — it's all predictable season after season. But, fall 2019 has finally stripped these staples of their familiarity, and is rebuilding them in ways that are equal parts quirky and classic, thanks in part to forward-thinking fashion houses such as Sacai, JW Anderson, and Proenza Schouler. This season's reconstruction trend doesn't just challenge your deeply ingrained notions of what fall fashion should be — it flips them entirely.
This revisionist fashion began with the subtle rise of statement stitching in 2018, a contrasting pop of white thread that suddenly called out the construction of a garment, forcing both the wearer and onlookers to acknowledge that clothing is more than just the sum of its zippers, seams, and patches of fabric — it's a technical work of art.
Now, designers have pushed on, ripping and resewing, patching, belting, and layering anew. While historically, elegance has been about subtlety — a hem that hits just right, a perfectly fitted jacket — reconstruction takes the opposite approach. It reveals a garment's intricacies by showing off the construction behind it — something that's often secreted away.
JW Anderson blazer, pants, cap, belt.
Alexander McQueen tailored jacket, trousers, earrings, boots.
It's a refreshingly unprecious approach that has been championed by a league of cool designers. JW Anderson perfected the aesthetic on the runway, sending models down in asymmetric capes and belted blazers that artfully Frankensteined together fall tweed and sleek black silk.
At Marni, layering was reimagined entirely, with overcoats and the shirting typically worn underneath morphed into a single piece with contrasting cut-outs at the shoulders, and sleeves emerging one layered beneath another. It's a playful illusion that draws in the observer's eye, and asks the question, what exactly is going on here?
Dior bustier top, blouse, pants, bucket hat with veil, jewelry, saddle belt, slingback pumps.
Marni jacket, top, skirt, necklace, boots.
But this thoughtful reinterpretation of fall classics didn't just resonate with the European design world. In New York, it was a core principle of Proenza Schouler's Fall/Winter 2019 collection, where trench coats were layered with denim, and dresses, tops, and jackets were all constructed in ways that allowed them to be reimagined in completely different iterations.
It's hard to evaluate modern collections without immediately drawing ties to Phoebe Philo, whose departure from Céline after the Fall/Winter 2018 season still seems to have left creative ripples touching the far reaches of the fashion scene. Alums of her tutelage — Peter Do being a leader here — have embraced her minimalist aesthetic, and are marrying elegant simplicity with unexpected reconstruction to revise the narrative of what refinement can entail. Sometimes sleek is also complicated.
No.21 knitted bra; Sacai shirt, skirt; Bjorg earrings; Nina Ricci mules.
Lanvin coats, skirt; Jennifer Fisher earrings; Stuart Weitzman boots.
For the dresser who finds joy in the labor of doing all the layering themselves, it's not a time to fret. While fall's runways provide ample options that allow you to embrace this deconstructionist aesthetic, there are ways to achieve the look with more of an artist's eye yourself. Ellery's leather separates have a crafted feel thanks to harlequin diamond trousers and piled-on ruffles, but it's the strategic suiting — head-to-toe leather, all of it red — that makes you feel like you're trying something truly different. It's not the slick black moto jacket that you're used to, but it feels just as luxurious. You're deconstructing one of fall's timeless staples and giving it your own modern stamp.
Super Yaya shirt, skirt; IPPOLITA earrings; Arthur Arbesser boots.
That's the thing about fall's reconstruction trend — at surface level it's no more than designers pulling apart pieces of cloth, cutting them out where they're not supposed to, and sticking them all back together again. But, it also offers a bit of insight into just where the industry is at right now. There will always be a place for the icons, but it's 2019, and designers aren't afraid to take things on their own terms.
From left to right: Ellery coat, jacket, shirt, pants; IPPOLITA earrings. Versace jacket, skirts.
Ellery coat, jacket, shirt, pants; IPPOLITA earrings; Neous boots.
Top image credit: From left to right: Salvatore Ferragamo knit sweater, shirt, skirt; Hannah Jewett earrings. Marni jacket, top, necklace.
Photographer: Jens Ingvarsson
Stylist: Mecca James-Williams
Prop Stylist: Summer Moore/Honey Artists
Hair: Helen Reavey, Management+Artists, using Act+Acre
Makeup: Colleen Runne using Dior Makeup at Art Department
Manicure: Rachel Shim using Zoya
Models: Clare Crawford, Sherry Shi at IMG