Eòlas Designer Colin McNair Wants You To Know Where Your Wool Is From
Sustainable knitwear with soul.
Jenna Jones for @eolasstore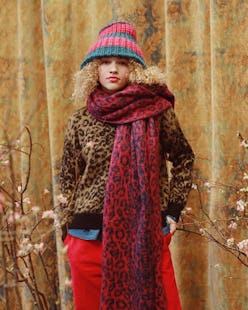 We may receive a portion of sales if you purchase a product through a link in this article.
On a mild Sunday in February, Eòlas designer Colin McNair scrambles to get everything in order for his brand's New York Fashion Week debut in the city's West Village neighborhood. It makes sense that the new luxury knitwear label's founder is, well, stressed, but the atmosphere in the hours leading up to the presentation (as models go through hair and makeup and looks are constructed and photographed) is one of joviality. The tone is perhaps set by the material, as Eòlas garments are happy clothes. Rainbow striped sweaters and giant Lenny Kravitz-esque chunky scarves establish a playful spirit that cuts right through the dreariness of the late winter afternoon in Jefferson Market Library. The landmarked building is a perfect location for the brand's inaugural show: Eòlas is the Gaelic word for "knowledge."
McNair, who hails from Culross, Scotland, wanted a name that nodded to the brand's sustainable mission. "It speaks to the importance of wisdom and the potential it holds to create positive change," he explains. "So, knowing what's gone before us in order to move forward in a better way." With years of industry experience to draw upon at brands like Zachary Prell and John Varvatos, the designer has witnessed firsthand the notoriously exorbitant levels of waste garment production can generate. Through Eòlas, he aims to set an example for how a sustainable clothing brand ought to operate. In fact, though the label is still in its infancy (having officially launched last spring), he's confident enough in the eco-friendly credentials of his strategy to declare Eòlas a role model on its website bio: "Everyone should be making clothes this way."
"This way" refers to the painstaking thoughtfulness poured into absolutely every detail of McNair's designs — from the materials he chooses to the packaging of his finished products. The designer prioritizes the use of recycled wool, cotton, and polyester. If he can't get his hands on recycled textiles, he uses organic alternatives. His mohair is RMS certified, meaning it meets certain requirements for animal welfare and eco-friendly land practices, and the labels sewn into each garment are made from certified organic cotton. In areas where McNair has been unable to source secondhand materials, it's clear that an exhaustive effort has been made: "I've tried to find recycled metal for the zipper, but it's really truly impossible," he says. "Everything that goes into making these sweaters is done using the most efficient or most responsible way."
McNair envisions the Eòlas customer as an eco-conscious consumer who loves fashion but prioritizes shopping sustainably. He acknowledges that the concern for environmentally responsible production is, rightfully, an increasingly important element for consumers. There's no shortage of brands who bill themselves as sustainable these days, but the whimsical Eòlas look sets it apart from many of the green alternatives on the market.
"We've got a point of view; we're not simple or minimalist, which I feel like a lot of these sustainable brands are, and I understand that because they want them to be classic pieces that you wear for a long time," McNair says. "I don't want the Eòlas aesthetic to be just, you know, beige — I want it to be things that you love, and that you want to cherish and hold on to for a long time and hopefully pass down, because it's that lovely or that interesting."
Championing the use of recycled and responsibly produced materials is of course crucial, but transparency plays no small part in McNair's eco-conscious mission. "As a brand, we can only be held accountable through our transparency," McNair says, noting that the Eòlas website details the provenance story of all the materials used. "And that's what we're here to do and to encourage. People need to know where the sheep are, where that wool comes from, how it was transported to the spinner, who spun it, then where that was taken to. That is what needs to happen in this industry."
The process on public display is a theme McNair folded into his show at the library. Knitters were seated encircling a pile of shreds, which they spun into scarves throughout the duration of the event.
It was a loose format structure, with garments on racks lined up alongside bookshelves for the audience to move through and examine. Toward the front of the room were models decked out in vibrant knit sweaters, scarves, and caps. I stood among them in a multicolor striped Eòlas cardigan, having been recruited by a mutual friend.
New York Fashion Week can be so exciting, but it can also be quite tense, sometimes a little bit too packed with tiresomely self-serious individuals and inaccessible clothing. The feeling at Eòlas was not that at all. This was a show pulled together by friends and family — the result of McNair's blood, sweat, and tears, for sure, but also in part a product of the people who love the designer and want to support him in delivering the best possible launch on the tight budget of a brand new label. And, of course, he loves them back; scrolling through the Eòlas website, I notice he's named some of the sweater styles in honor of his pals. It's easy to see how the designer has managed to build up a loyal team of friends and confidants: He has a warm demeanor and expresses his gratitude to those of us dressed in his wares effusively throughout the show, though mainly we are just sipping Prosecco in cozy sweaters.
We catch up a few days post-show back at the apartment, and it's clear immediately that the grind never stops. There's no time to bask in the joy of his debut; he's already preoccupied with selling the spring collection on the website, planning scores of trunk shows and pop-ups all around the country, and a wholesale market in June. There's truly tons to do, and for all the frenzy and color and rush of his world, it's hard to believe the brand was born out of the stillness and silence of early 2020.
When the lockdowns and layoffs began that early spring, McNair was one of the many who lost their jobs. Going from a busy life as VP of design at men's sportswear brand Zachary Prell to the quiet emptiness of New York City during that moment gave him room to imagine what it might look like to strike out on his own. "I'd been talking about [launching my own brand] for years previous to that. And when [that time] came, it basically just allowed me the headspace to think about it."
Now that his garments are out in the world and a collection has been shown to the public, I ask how he's feeling reflecting back on it all. He's proud and thankful to everyone who helped him bring the presentation to life, but like everyone in an industry obsessed with the latest, the now, and what's on deck, he's got to keep looking ahead: "I'm on to the next one already, the next collection. So proud and restless."
That, of course, does not mean churning out racks of trend-focused items that cycle in and immediately out of wearers' rotations. There are enough players in this industry focused on ephemera — actually, there are far too many.
With fast fashion giants pumping out lines that are "made sustainably" alongside thousands of other pieces destined for dumping grounds in the Global South, it's fair to say the phrase is losing some of its potency. Perhaps the simple use of that terminology is enough to sway some consumers, but McNair knows better — and so he does better. As far as wording goes, he prefers "made responsibly." And having amassed a wealth of knowledge on how clothing is produced and where processes should be tweaked over years in the industry, he knows sharing that message is his responsibility. Luxe, high-quality garments are the only shoppable items on Eòlas' website, but arguably aren't McNair's most valuable product. His stewardship, a playbook set by someone who genuinely knows what they're doing and wants to serve as a transparent example for others to follow, is a priceless commodity.