The Non-Traditional Engagement Ring That's Spiking In Popularity
VICTOR BARBONE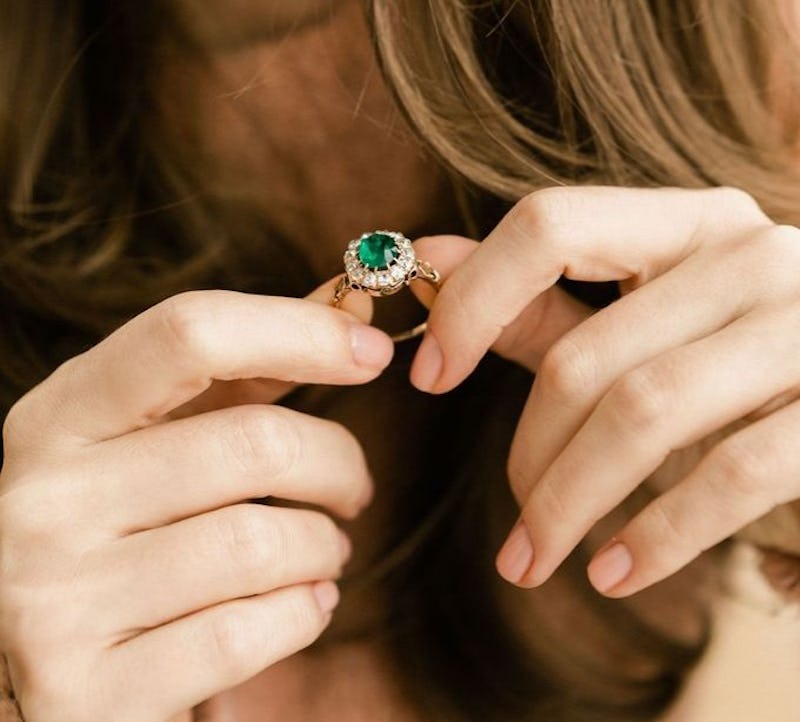 Have you heard? Colored stones are in. Though diamonds have long been referred to as a girl's best friend, these days, modern brides are considering non-traditional gemstones when it comes to their ring choice. Given that an engagement ring is likely one of the most worn and personal pieces in a jewelry box it should reflect your personal style, and that can mean a non-diamond may be more in line with your aesthetic. So, if wedding bells are on your mind, you may have found yourself scrolling through eye-catching emerald engagement rings over a clear classic sparklers.
The searches on Etsy indicate you're not alone in your love affair with the gleaming green stone. In an email to TZR, the online retailer reports that in the last three months there have been more than 328,000 searches for emeralds. And with so many stunning options available right now from both big name designers and small indie brands, it's not hard to see why the elegance of an emerald ring has so many soon-to-be brides smitten.
What's especially appealing about the luxe green hue is its timeless quality. So while you'll have your pick of swoon-worthy styles, from traditional shapes and modern silhouettes to alternative designs, you can rest assured emerald will stand the test of time. Plus, when it comes to cost, there are precious pieces to be found for every budget.
Even though you are keen to switch up the stone, you may still want your emerald to be part of a more classic design, in which case, consider Anna Sheffield's oval rosette ring. Sitting on top of a clean band is a vibrant emerald at the center surrounded by white diamonds, and yes, it's just as show-stopping as it sounds.
Partial to more modern designs? You might gravitate toward the clean lines of this emerald ring flanked by two baguette diamonds from AZLEE Jewelry, while those looking to go minimal will like the simplicity of a pear solitaire bezel ring. However, if you live a more active lifestyle, a glistening green infinity band like this delicate ring from Jennifer Meyer or a rounded, smooth silhouette from Octavia Elizabeth may be to your liking.
Rachel Boston's 18 karat gold Gar Ring with two rotated square emeralds is perfect for someone seeking a unique silhouette, as is this Suzanne Kalan style with its stunning line-up of baguette-cut emeralds. Eager to add another color to the mix? Peek at Bario Neal's Quince Emerald with Black Diamond Halo Ring, which is sure to make your heart skip a beat when your partner pops the question.
Continue on to browse 23 emerald engagement rings that'll have you saying yes now and later.