Influencer Folasade Adeoso Is Using Her Influence To Support African Designers
Ginikachi Eloka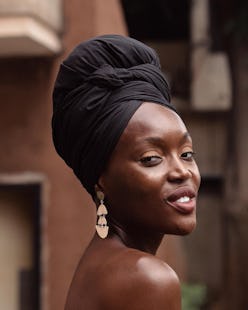 This influencer knows how to make an entrance. Folasade Adeoso, the 30-year-old Nigerian-born creative director and digital designer, is instantly recognizable for her beautiful, colorful headwraps. Her personal style, as well as her affinity for finding and supporting African designers, has attracted some 86,000 Instagram followers, including Louis Vuitton menswear designer, Virgil Abloh.
Currently based in New York City, Adeoso channels her creativity into various mediums — web design, photography, clothing, to name a few. Her approach to style is vibrant and thoughtful, and she is increasingly generating her own designs.
Which item in your closet have you owned for the longest and why?
My favorite items are my headwraps — all of them; I grab them every day. I don't really own clothes for too long, and if I buy something new, I have to donate something out of my closet. One thing that hasn't rotated as much, or been donated, is a beige vintage knitwear dress that's super cool and funky. It gives me a '60s vibe whenever I wear it and I always get so many compliments. That one I hold on to tightly, I've had it for four to five years.
I want to get to a point where 40 percent of my closet is made by me and 40 percent [is made] by other African designers.
What piece instantly makes you feel more confident and why?
Any of the pieces I've designed myself. I know it's something I put my own time into and it was made specifically for me. I know no one else will be wearing it. I've taken the time to produce it carefully. Whenever I go to Nigeria, I work with my mom and my aunt, who has her own tailoring and sewing company. We all get together and design and create three pieces. I also make my own clothes in Senegal, where I found a great fabric store and a local tailor. I give my measurements and we collaborate on the design. I want to get to a point where 40 percent of my closet is made by me and 40 percent [is made] by other African designers.
Which African designers do you love currently?
I love Shequeel, a brand that makes hand woven shoes and accessories in Lagos. It's a good way to explore tradition without going overboard. Shekuzo, a brand based in Nigeria is also great. When I create, I want to have fun and feel good and not take myself too seriously, I translate that creative work into my style.
Can you recall an outfit you have worn that was iconic for you? Either you wore it for a momentous occasion or it signified a turning point in your life or style? What inspired it/how did it happen?
A few years ago in my early 20s, I first discovered who Grace Jones was. I had just shaved my head. I studied her, so blown away by her style. Started putting together a lot of Grace Jones outfits day to day. It was really fun to discover such an iconic person and be compared to her. Great moment in style for me [when I was] 21-24.
Another iconic one was when I started embracing my culture and started wearing more headwraps. I was about 25 or 26.
I grew up around my Nigerian aunts dressing up to go to parties and I was always in awe.
What is your daily uniform? How has it changed? Stayed the same? Why is it your uniform?
If I'm chilling and no one is going to be around, it varies from mom jeans and a cool tee to sweatpants and a hoodie. My goal is to be comfortable. When I am going out, it varies. If it's for an industry event, I don't do it on purpose, it's in the back of my mind, but I do I want to be a presence when I enter the room. I've started wearing these West African men's hats — I just wore one to a basketball game — and they're a big statement. I like to add a lot of culture to my outfits.
What has influenced your personal style? Do you have any distinct early memories that predicted your interest in fashion?
Being African, my culture is very important to me. I grew up around my Nigerian aunts dressing up to go to parties and I was always in awe. To see all the aunts together, all dressed up, was so powerful. I had that example of culture and style from a young age and they inspired my affinity for wearing African lace, wax prints, and vibrant colors. New York has also had a big influence on how I dress. I've lived here for over 12 years and being around so many other cultures means I get to pull inspiration from little hubs. Seeing other people's style and how they combine streetwear and high-luxe culture sparks my creativity. Plus, I feel like I can be a little sartorially loud in New York because there's always someone who'll be louder than me.
What items do you always gravitate towards? What item do you own multiple versions of? Why?
As I'm growing older, sustainability and ethics are more and more important to me. Making my own clothing and supporting African and independent designers over mass companies is a big priority for me. I love the brand EDUN because they use local artisans in Mozambique, Kenya, and South Africa to create their designs. I'm willing to invest more to know that my money is going directly to help someone who created a magical piece that I love. Donating is really important to me. Housing Works or Goodwill or homeless shelters to recycle. It's one thing to donate to your community, another to donate to another country. A lot of people shopping in third world countries are losing out business because of secondhand clothing. I don't send to Africa for donations, it does hurt their economy there.
To find something ethical of good quality from an emerging designer takes research. I'd like to see that be easier.
How do you define your personal style?
Bold, powerful, creative, inviting. People like to talk to me when I'm dressed up, it's fun, I get to meet and talk to people. I own this outrageous, long, color-blocked coat that I call my magic coat. It makes people smile and always sparks conversation with strangers. I know I'm going to brighten someone's day when I wear it.
What fashion category do you feel is lacking? What would you like to see more of?
I'd like to see more large companies engaging in larger-scale ethical practices. Thats what lacking. To find something ethical of good quality from an emerging designer takes research. I'd like to see that be easier.
How has your style played a role in your career? Has it opened or closed doors for you? Has it evolved as a result?
People trust me as a creative person because of my style. If I say I'm a creative person while wearing a bold outfit their response is "obviously." In the age of Instagram, putting my style out there has also really helped reach new people. My unique style offers a stamp of approval, and it also gives me confidence.
This interview has been edited and condensed for length and clarity.