Zimo Yan Is Equal Parts Designer & Documentarian
Her clothes are a celebration of the Asian diaspora.
Courtesy of Zimo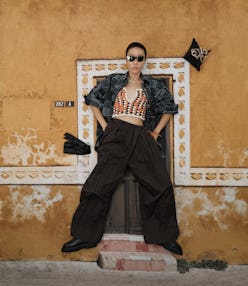 Most labels hone their house aesthetic, well, in-house, but emerging brand ZIMO looks outward with purpose to craft a new aesthetic world season by season. Designer Zimo Yan, who established her namesake line in 2021, envisions her work as a documentary of sorts. With each collection, Yan puts out a publication stylized as a newspaper that functions both as a lookbook for the season as well as providing readers with a wealth of researched information on her source material. Yan's overarching focus with ZIMO is exploring Asian heritage; specifically, analyzing the elements she fears will be lost to time or somehow obscured, features she sees fit to bring to the forefront through her designs — or, as it's phrased in the brand's press materials, to record a "vanishing culture" and "awaken group perceptions."
The garments, which are unisex, have a distinctly arts-and-crafts-meets-streetwear vibe, with myriad influences pieced together. Scenes depicting little slices of life both staged and real populate ZIMO lookbooks, with shots featuring everything from the overcrowded shelves at a Seoul vintage market to four women enjoying a game of mahjong. Though the designer finds her muses in many aspects of Asian culture, she pulls new material from both life on the continent as well as the experiences of those scattered across the diaspora.
Fall/Winter 2023Courtesy of ZIMO
For a label established post-2020, ZIMO had an impressively strong start. The brand was picked up by 14 stockists in China as well as Net-A-Porter China following its first season. Two short years later, ZIMO would arrive at New York Fashion Week. Yan found the experience both thrilling and exhausting, as her company was met with such an encouraging reception that it nearly outpaced her ability to keep up. She touched down in New York in June 2022 with much to pull together in preparation and no studio or machines to create the pieces.
While Yan says she felt rushed in pulling together a cohesive lineup, the designer still delivered: she dubbed her SS23 collection Dolores Street, after the Barrio Chino in Mexico City. The line displayed a fusion of aesthetics from Asian heritage with Latin-inspired elements, drawing upon the experiences of Asian immigrants in the 1990s who settled in Mexico. The "documentary" mission statement behind ZIMO doesn't just refer to the concepts Yan crafts each season around. She weaves the narratives directly into the fabric of her pieces; deadstock and repurposed materials, from sheets to towels to pajamas, contribute to the storytelling. Features like upcycled jersey cloth, crochet patchwork tablecloth, and porcelain beads once belonging to Chinese elders were incorporated alongside dramatic ruffle hems and Mexican-style patchwork to create the pieces.
Spring/Summer 2023Courtesy of Zimo
Yan intended her finished product to illustrate the melding of East and West that these immigrants came to represent, braiding the traditions of their birthplace with those of the country they'd relocated to with the goal of capturing "the complex environment in which Asian youth in Western countries grow up," an experience that lends itself to "the inevitable question of true belonging" and the forging of a new identity.
"China developed super fast recently, especially in these past 20 years," Yan tells TZR on a call from Shanghai. ZIMO is largely New York-based, though it operates out of China for about three months of the year for production as well as for Shanghai Fashion Week. "But meanwhile, there are lots of old [elements of Chinese culture] that are disappearing super fast." In preparation for ZIMO's debut season, Yan went to a store that only sold trousers in a style she calls "really old-school, old-fashioned," one she remembers from her childhood. But by 2021, that store was gone, along with many of its kind. The designer had similar difficulty in her efforts to source traditional Chinese pajamas, which she says elders, like her grandparents, customarily layered under other garments.
When she saw that those too were at risk of dying out with older generations, it became clear that she'd have to use her creations to preserve those bits of her heritage; for example, ZIMO's second season (FW '22) showcases the stories of 30 different characters whose jobs are disappearing: film projectionists, copy runners, telephone operators. So how exactly does one pay homage to a vanishing profession through clothes? Repurposed fabrics help with the storytelling, like the upcycled pajamas Yan incorporated as a tribute to the traditional garb of Chinese grandparents.
Yan's co-founder and husband Wentao Huang tag-teams responses on the Zoom. The two are newlyweds but have known each other for over a decade. While Yan is the mastermind behind the clothes, Huang's focus includes storytelling and everything else — the operational necessities required to run the label and support his wife's vision, as well as spearheading the branding. It's not lost on either of them that centering ZIMO around cultural touchstones whose heydays have come to pass might not always translate as the sexiest concept from the outset, but with a renewed love of vintage and so much nostalgia in the Gen Z and millennial approach to dressing, they know the market of old souls is out there.
"Nowadays, a lot of people are kind of coming back to the vintage store and going back to buying items like CD players," Huang says. "They want to experience that kind of taste." The cycle of innovation is speeding up already, but just because certain professions or fashions are becoming less popular doesn't mean they're obsolete. "We really want to pick those things back up because it's in our memory and we want to bring it up for people," he continues. "A lot of these things are not bad, they are just outdated or bested by the others, but we can still use some of that."
For the brand's Fall/Winter 23 collection, Yan considered the hoarder. She was inspired by a trip to a Korean flea market where most of the shop owners were of an older generation, racking up countless pieces over the years that were, as Huang says, "important to their memory." While negative associations with the term "hoarder" abound, Yan saw the beauty in the kind of sentimentality that results in one holding on tight to so many items they couldn't bear to part with to the extent that they become inundated with relics of a time forgotten by the wider world.
She experimented with lots of layering in the new line to illustrate the piling on in sartorial format: models started out with more stripped-back looks that were added on to further create different silhouettes that progressed throughout the course of the show. Despite the ethos of it, the curation was very intentional and not at all slapdash, with all the pieces tailored and carefully layered to paint a picture of visual excess, but stopping short of fully overwhelming the models' bodies.
The designer's strong start continued with a slew of good press after its NYFW debut naming the brand as "one to watch," but it was right back to work without much of a break to bask in it; Yan departed for China immediately afterward to quarantine and then prepare for Shanghai Fashion Week. For all the excitement and opportunity awaiting the brand stateside, a solid chunk of her time will always be devoted to her native China. After all, the label's entire conceit revolves around celebrating bits of Eastern life and its traditions, particularly all the small stuff that Yan sees fading fast with the generations. Her inspiration comes from material objects she needs to physically touch on shelves of flea markets to spark an idea — or even the absence of things, like a storefront she passes frequently that's been forced to close its doors.
While much of the sartorial world is content with emulating "it girls" and chasing hot trends, Yan finds it more fulfilling to look to the margins to find her documentary subjects, which are relegated to the sidelines as experiences within a minority culture, or buried under time and pushed out of the mainstream. ZIMO shines the spotlight on those evanescent facets of her heritage by transmuting the ephemera into something that strives for permanence. Looking ahead, she's not sure what ideas might be sparked from a trip to a vintage shop, from the personal collections of Chinese elders, or in the occupations and technologies soon to be outmoded. But Yan knows that whenever the rest of the world discards something, she's prepared to hone in on those undersung pieces of daily life, spinning them into something deserving of a little more time in the sun.