Wear Grunge Like A Grown-Up With These 5 Essential Pieces
They're so easy to mix and match.
@mariaalia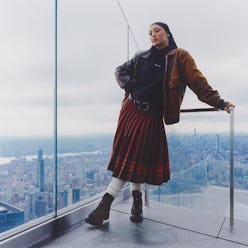 We may receive a portion of sales if you purchase a product through a link in this article.
Fashion is starting to look purposely undone and rough around the edges, be it by way of a certain Y2K-inspired sleazy-chic aesthetic (see: Dua Lipa and Bella Hadid) or a more thrifted, '90s Portland cool kid vibe, as seen at Bottega Veneta's buzzy show last September. When supermodel Kate Moss herself, a master of all things tattered and slouchy in her own right, took the brand's catwalk in a plaid shirt, simple tank, and baggy jeans, the message was clear: The grunge trend is back in a big way for spring 2023.
And why not? There is certainly no shortage of culture references for designers to pull from. Vanna Youngstein, stylist and designer of her namesake label, tells TZR the list is endless. "There are almost too many references to mention," she says. "Hole, Babes in Toyland, Nirvana, Pearl Jam, Alice in Chains, Bikini Kill, Soundgarden, Drew Barrymore and Sara Gilbert in Poison Ivy, and Angela and Rayanne of My So-Called Life have all impacted my style and designs." These icons have had a lasting impact on designers and stylists, and now shoppers can't seem to get enough of their moody, mysterious wardrobes as well.
"Grunge very much fits into the Y2K resurgence trend that has been popular for several seasons, especially among Gen Z," says Steve Dool, brand director of Depop. "The renewed interest in grunge across the runway reflects the sense of playful chaos we are seeing reverberate across the industry and will only continue to stoke more interest among young people." Additionally, the look feels like an apt fit for society's current mood. "As brands and consumers are still dealing with the effects of the COVID-19 pandemic, economic uncertainty, and a rapidly growing climate crisis, there's more of an appetite for the Depop community to be inspired by different eras — but also a notable increase in the demand for a moody, less polished aesthetic with durable clothes and dress-downed looks," he adds.
This shift has been felt by others in the industry, as well. "Because of the [current] focus on sustainability, I think it has felt important to re-wear and rework existing items of your wardrobe. I think this has naturally lead to a kind of grungier look," Youngstein explains. "People are wanting to wear more down-to-earth clothing."
Several Spring/Summer 2023 runways — including Burberry, Knwls, and A.W.A.K.E. Mode — evoked this low key attitude, but in an elevated way that speaks more to those in the fashion know than angsty teens. "There was a feeling of grown-up grunge for the spring season, and a great example of this is Chopova Lowena," Liane Wiggins, head of womenswear at Matchesfashion, tells TZR. "The way they mix the fabrics with [metal] rings feels fresh."
Bottega Veneta Spring/Summer 2023Victor VIRGILE/Gamma-Rapho/Getty Images
KNWLS Spring/Summer 2023WWD/Penske Media/Getty Images
At its core, grunge is all about approachability — which is something to keep in mind when tackling the trend. "This season isn't about being theatrical; it's about wearing grunge in a way that you can incorporate into your everyday wardrobe," Wiggins says. "Think oversized coats with big boots or deconstructed florals." Dool points out that the best way to wear grunge is however it feels most authentic to you. "That might mean swapping in something like tight denim corsets in place of band tees — or layering on gold chains and jewelry or incorporating other flourishes like heeled boots," he says. "Grunge is utilitarian and practical, which is as relevant a style mindset today as it was in the '90s, whether you're wearing an oversized flannel or not."
And while there is no one prescriptive way to approach the look, the right key items will give you plenty of room to make it your own. "Grunge is often associated today with hallmark pieces of the '90s and early 2000s, including acid-wash denim, low-rise mini skirts, plaid flannels, Converse sneakers, and combat boots," Dool tells TZR. "Each of these pieces captures [its spirit of] punk-inflected rebellion."
Keeping these notes in mind, shop six updated grunge essentials — complete with expert styling notes — ahead.
Plaid Shirts
When paired with a baggy jean and an easy tank top (a la Bottega Veneta), an oversize plaid shirt reads more Saturday brunch polished than garbage band practice but still brings plenty of edge to your outfit. Add a classic leather belt and chain jewelry, and you are good to go.
Baggy Jeans
"I see a lot of my customers and models styling the tank tops with low slung, baggy jeans and an oversized coat. I think that [combination is] simple, modern, and really wearable," Youngstein explains. "And I'm a big fan of a hair clip, so a hair clip on one side to finish the look."
Combat Boots
A chunky combat boot has always been synonymous with grunge style. Pair yours with feminine, floral midi dresses or punky plaid skirts — in winter, add warm tights, and then go bare-legged in the spring with a slouchy sock moment.
Low-Rise Mini Skirts
The low-slung mini is an MVP of today's grunge sleaze movement. Seen all over the SS23 runways and a favorite of the likes of Bella Hadid and Keke Palmer on the street, the micro silhouette can be worn with practically every grunge item imaginable. Try yours with a chunky knit or oversize tee to balance out the super short hemline.
Vintage-Inspired Knits
Whether you are shopping true vintage or looking for something new, don't forget a colorful, oversize sweater that could be straight from Kurt Cobain's closet. Quirky, retro patterns — melange stripes, perhaps? — in either a grandpa-style cardigan or pullover style will blend nicely with all your loose-fit denim and lug sole stompers.
Corset Tops
The corset top is one of those '90s to early '00s pieces that you may have already invested over the past few seasons. (If not, there is no time like the present!) Good news: It can be reworked effortlessly to fit the modern grunge aesthetic today, whether you are skewing toward an oversized, alt-rock '90s moment or a skimpier look worthy of Christina Aguilera in the '00s. Whether your ideal perfect pairing includes a low-slung mini skirt or wide-leg jeans and cargos are more your thing, simplicity is key to ensure your 'fit does not venture into costume territory.