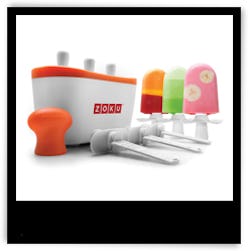 We love to DIY at RZ HQ, so of course, when it comes to making our own popsicles, froyo or snow cones, we're up for the challenge. Sound delish? Join in and create your own refreshing treats with one these handy makers!
Zoku, Quick Pop Maker, $50
Perfect for a party, this popsicle maker creates one-of-a-kind sweets in just 7 minutes!
Cuisinart, Frozen Yogurt, Ice Cream and Sorbet Maker, $60
Did someone say froyo? Make summer's staple sweet—or sorbet!—in your very own kitchen with one of these colorful gadgets.
Waring Pro, Snow Cone Maker, $130
Destined to be a hit at your next summer soirée, this professional snow cone creator offers a chill complement to poolside lounging.
Takeya, Flash Chill Lemonade Maker, $25
You're never too old for a lemonade stand—even if it's just in your own backyard. Serve the sweet sip to your guests with the aid of Takeya's fresh-squeezed lemonade maker!
Margaritaville, Frozen Concotion Maker, $350
Now the party is really getting started! Thanks to Margaritaville's master blender, you can turn out the frozen drinks from high noon to sunset.