These Chic Raincoats Have Us Hoping For A Torrential Downpour
Christian Vierig/Getty Images Entertainment/Getty Images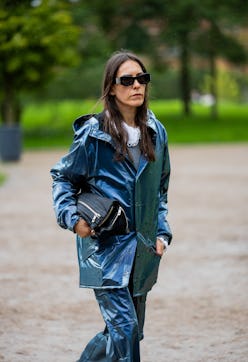 We may receive a portion of sales if you purchase a product through a link in this article.
Head's up to my fellow New Yorkers: This is the seventh rainy weekend in a row. (Ugh is right.) Meanwhile, over in California, the past 12 months have seen some of the wettest on record. Even if you're located in other parts of the country, you know navigating heavy precipitation has become an essential part of life. And from a fashion perspective, there's nothing quite like a thunderstorm to throw a wrench in your outfit planning. Indeed, finding a cute look to wear during a torrential downpour is no easy feat; however, there's a simple solution: Opt for a chic raincoat. Thanks to the all luxe styles out there right now, it's very much possible to simultaneously look put together and stay dry.
In the past, hearing the word raincoat may have conjured up images of a plain and, frankly, boring black or white look — but these days, the options certainly don't skimp on style. Take Prada's oversized jacket, which is enlivened with its signature triangle print and high-shine logo. While understated, the designer coat will elevate your entire outfit. Or, should you wish to make a bold statement via your stormy weather look, Moncler's attention-grabbing metallic silver topper will surely do the trick.
Keep scrolling for 10 cute yet functional anoraks, trenches, and ponchos to wear on the next gloomy day. You may even start hoping for the forecast to call for showers just so you can wear them. (Rain, rain... don't go away?)