These Are Officially The Most Popular Instagram Accounts For Fashion Girls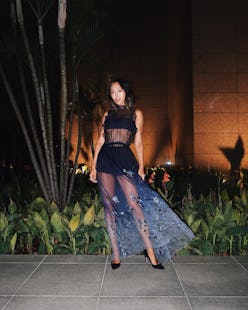 Ah, Instagram: A place where in one fell swoop you can learn the trendiest new toasts (last we checked it was still sweet potato, BTW), the daily cuteness of our favorite furry friends and—of course—everything we want to wear right now. While we don't recommend comparing yourself to your go-to style icons (remember: Instagram is not real life!), it doesn't hurt to try to take a little fashion inspiration from the models, bloggers, actresses and other women who regularly feature their cool, effortless looks on their feed. And based on the numbers, we've rounded up a few of the ladies who most of you seem to turn to to get your daily fix. If you haven't clicked "follow" on any of these trendsetters yet, you might want to consider it.
Aimee Song
This fashion-blogger-turned-best-selling-author gives her 4.6 million followers goals on the daily: exotic vaycay locales, the coolest spots to eat/drink/lounge and—most importantly—modern yet feminine looks by the hottest designers around.
Chiara Ferragni
The Blonde Salad blogger, jetsetter, and fashion show fixture gives her 10.2 million followers a daily dose of her youthful, sexy style amid snaps of healthy snacks and plenty of shots snuggling with musician boyfriend Fedez.
Solange
The musician has become a muse to indie designers everywhere, in part because she's been a champion for so many emerging, artsy brands. Her cool, edgy looks combined with the fact that she also happens to make some seriously incredible music has won Solange 3 million followers.
Rosie Huntington-Whitelely
As the face of brands like Caudalie, Paige and Ugg, it's not a surprise that this British model's 7.6 million followers regularly head to her feed to swoon over her beauty rituals, casually elegant clothing, inspo and the occasional snap of fiancee Jason Statham and baby Jack.
Bella Hadid
Bella is forever keeping her 14.7 million followers on their toes with her unapologetically edgy, sexy outfits, hair change-ups and behind-the-scenes peeks at her crazy life as a majorly in-demand model.
Emily Ratajkowski
It's hard not to be just a little envious of this California-bred model: She practically lives in a bikini, travels to the most luxe places around the world, and unabashedly loves wine, red meat and pasta. But despite the flawless bod and effortlessly sexy-cool wardrobe, she manages to seem pretty darn relatable (refer back to the wine and pasta comment), which is probably how she's earned 14.8 million followers.
Kendall Jenner
She may have traded her angel wings to be the face of a different intimates brand, but we doubt her 83.1 million (!!!) followers are complaining about seeing pics of the model posing in La Perla skivvies on their feed.
Joan Smalls
Whether she's in a red carpet gown, a teeny bikini or sneakers and a T-shirt, the model's practically unbelievable (she can't be mortal, right?) beauty shines through every photo on her feed—which is probably how she's snagged 2.5 million followers.