The Best Fleece-Lined Leggings You'll Shamelessly Wear Every Day
They'll keep you warm and cozy.
@bandier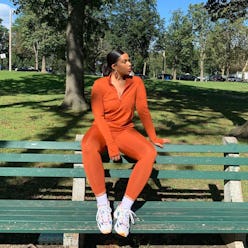 Whether you're an avid runner or you just like a brisk walk now and then, there are a few staples that you need in your casual winter wardrobe — and the best fleece-lined leggings rank high on that list. Thanks to the added warmth, this cold-weather essential means you don't have to halt all outdoor activities or limit your workouts to indoors when the temperature drops. Instead, you can slip into your coziest fleece-lined leggings and continue moving your body as normal.
Those who like to venture outdoors, regardless of the season, know the pain of being chilled to the bone by low temperatures and icy winds. Thankfully, fleece-lined leggings are here to help alleviate that discomfort. While it may seem like a niche, hard-to-find item, the warm yet lightweight pants are actually fairly easy to acquire at an affordable cost right from Amazon. And even if you don't consider yourself the outdoorsy type, the bottoms are still an investment worth making. (A few months from now, your future self will thank you for making that purchase.)
Are you looking for a supportive style that will keep you warm during those early morning runs? Or do you prefer loose-fitting bottoms for a stroll around the block? Ahead, you'll be able to shop fleece-lined leggings no matter what level of activity you plan to engage in. The styles will keep you warm and active throughout fall and winter.
We may receive a portion of sales if you purchase a product through a link in this article.
Amazon reviewers describe this pair of bottoms as warm, comfortable, and well-made. One shopper wrote: "The length, the fit, the stretch, the high-waist are all perfect. I'll continue to order and where these leggings for the rest of my life!" while another remarked that they even held up for her vacation in Iceland. The leggings currently have a 4.6 out of 5 star rating and over 4.2k reviews — a true testament to how much people love the style.
For those seeking colorful fleece-lined leggings, you can have your pick with this 4.5 star rated style from 90 Degree By Reflex. The bottoms come in over 36 hues, from hunter green to mustard, and have over 14k reviews. Should you love the first pair, add a few more options to your virtual checkout cart. They're also great for any of your upcoming cold-weather travel destinations as one shopper said: "These leggings are so warm and comfortable. I wore them on an Alaskan cruise, and they were perfect. I'll order more for winter."
These 4.2 star rated footed leggings are warm and fuzzy on the inside, giving you that cozy feel you'll desire in the middle of winter. Based off the 11k reviews for this product, you can expect the bottoms to provide tummy control and stretch in addition to warmth. One shopper said: "I ended up buying this for a layer during my winter mountain camping and it was such a good investment. I do need to buy more soon, only because I don'r have a way to wash clothes when I do outdoor trips and I wear these a TON. The quality is amazing, the fit is comfortable, really impressed. This will end up being a staple."
These 4.1 star rated leggings feature a three-inch elastic waistband and are made with four-way stretch fabric. The inside, of course, are fleece-lined. Qualities aside, shoppers love the bottoms because they come in a variety of hues, from fuchsia to beige, and are affordable. A possible con to this style, however, is that the seams don't seem to hold up well after repeat wear — for some shoppers, at least. Within the 19.5k reviews for the product, one Amazon reviewer wrote: "This was not a bad purchase. May buy again in the fall. Material not too heavy for SoCal, but may not be heavy enough for snow, if that is what you need. Overall: they are very serviceable."
If white isn't your color, not to worry as these warm and thick leggings also come in a variety of other hues. They have a 4.4 out of 5 star rating and over 24k reviews, which means people love these. "I bought these for a trip to Chicago in March. The leggings were comfortable and provided some extra warmth. Cute under tops and dresses. I wore them with boots because they are a little short on my 5'9" frame," read one review. For the outdoorsy folks out there: the leggings are hiking-approved.
YEZII's two-pack leggings come in different color combinations, so you'll surely find the styles that speak to you. The product has a 4.5 star rating and 2.8k reviews (thus far). If you don't feel like reading through all the comments, here's one that sums up the fleece-lined leggings most appropriately. One Amazon shopper said: "The material does not catch or pull on dry skin, hands, etc, which in the winter is a very good thing and one I really appreciate. May be the softest leggings I've felt. Con: Sometimes the waistband will roll a drop when you bend over, but it's nowhere near as bad as some leggings I've bought."
This pair of high-waisted, fleece-lined leggings has a 4.75-inch waistband for greater coverage and are slightly shiny, which means you have more leeway in dressing them up. Opt for a basic black pair to style with a tee and your favorite leather moto jacket and combat boots. Alternatively, you can opt for a colorful bottom, like the item pictured above, in a wine red shade. One Amazon shopper said: "I bought the leggings for my daughter-in-law and she told me that they were the most comfy cozy leggings that she has. The are fleece-lined so how can they go wrong. They did run a bit on the small side." (PSA to all: size up!)
Whether you're walking the dog or taking a morning stroll in 10-degree weather, you'll want to slip on these leggings before you leave the house. They have a 4.1 star rating and over 3.1k reviews, with many commenting on how warm and comfortable they are. One Amazon shopper wrote: "I love these leggings so darn much!! I wore them throughout the entire winter and was never cold. They're thick (as expected) and so soft and warm. My family went to Colorado for a ski trip and these were the pants I wore every night to dinner ... One night there was a blizzard and roads were blocked and we couldn't get out of the hotel to the town, so my dad and I walked a half mile in a blizzard to the nearest pizza shop. I'm not lying when I said I did not feel the cold nor the wind through these leggings!"
With over 9k reviews, this six-pack of fleece-lined leggings will live up to all of your expectations. If, of course, those expectations include finding bottoms that are stretchy, soft, and fitted. One Amazon customer said: "Bought this for a trip to Iceland and divided the pack between me and my daughter (very different sizes: 8 and 12). Fit us both very well and kept us warm in 45 to 55-degree windy weather..." Many people did note that the leggings are prone to pilling, should this bother you. If not, add the leggings to your virtual checkout cart!
Unlike many fleece-lined leggings on the market, this style comes in an inclusive range of sizes from Small to 5XL. One Amazon reviewer wrote, "I'm a size 22 and I find it very hard to get leggings that are not see-through. These are not. They are not great at staying up over your tummy, so that is the drawback. I went up a size to make sure I just didn't buy too small. They are comfy, and my skin doesn't show, so yes I give them a good rating." Another person said: "I love wearing these leggings during the winter when it's colder out, especially for work ... Super comfortable, soft and stretchy."
This article was originally published on