This Under-The-Radar Brand Is The Secret Source For Red Carpet Style At Your Next Big Event
Shop the same stunning looks celebs donned at Cannes.
Alamour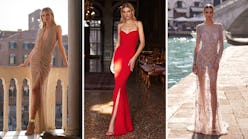 We may receive a portion of sales if you purchase a product through a link in this article.
Anyone attending an event with a dress code knows the special hell of selecting an outfit for the occasion — particularly when said occasion is black tie or formal. Whether wedding or party, you want to make a statement, which is precisely why you need to know about Alamour The Label, an underground celebrity favorite. The Australian brand offers designs with an aim of making the wearer feel gorgeously empowered and look majorly luxe. Now the label has just dropped a collection featuring designs recently worn by VIPs at the Cannes Film Festival, creating the opportunity for you to wear the same stunning red carpet looks donned by actresses, models, and influencers.
For Your Consideration
Maximalists can look for a glittering mesh gown reminiscent of old Hollywood glamour or a black-tie-worthy two-piece dripping with feathers, while minimalists will appreciate simple yet eye-catching selects like a fitted black sheath with a mermaid hemline or a streamlined femme fatale red dress with a lace-up back. Whatever your aesthetic, Alamour has an in-house design to suit the occasion — and if the Instagram comments (and fire emojis) on the posts coming out of the Côte d'Azur are any indiction, these looks are sure to absolutely wow at your next event, too.
Scroll on for a selection of nominees from the very best.
1. The Simple Yet Stunning LBD That's An Instant Classic
Sleek yet show-stopping, the Faye gown features a strapless sweetheart neckline and curve-clinging silhouette that extends to a subtle mermaid hemline. It's easy to see why model Meredith Mickelson chose to wear this to the Cannes premier of Wes Anderson's latest film, Asteroid City — its timeless design will remain relevant long after the photographs have been taken.
Available sizes: XX-Small —X-Large
Available colors: 1
2. This Glittering Bond Girl Dress
A piece to celebrate your inner maximalist, the Zahara dress makes no apology for its showy, shimmering gold mesh; in fact, it ups the ante with a thigh-high slit and a navel-grazing V-neckline. Actress Zita Vass donned it for Cannes for a sultry vintage silhouette on the red carpet. Whether you're dressing for a film premier or a black tie event, this statuesque dress will ensure you get noticed.
Available sizes: XX-Small — X-Large
Available colors: 1
3. A Full-Throttle Evening Dress With Strategic Cutouts
The words "unbridled glamour" come to mind when presented with the Maureen dress, which features details like bodice cutouts punctuated by criss-cross diamanté spaghetti straps over a thigh-grazing slit, further enhanced by shimmering sequined fabric. Influencer and entrepreneur Diipa Khosla chose the Maureen to wear for a Cannes afterparty, but it would be a stunning choice for any black tie or formal affair; it's the sort of dress that can stop you in your tracks.
Available sizes: XX-Small — X-Large
Available colors: 1
4. An Ethereal Sheer Beaded Gown That Reveals As It Conceals
Here for that peek-a-boo moment, the Venice beaded gown harnesses the power of suggestion. Sheer mesh is embellished by intricate beading while long sleeves, a high neckline, and floor-sweeping length balance its silhouette and add to the allure. Influencer Devon Christenson wore it for a gala at Cannes, resulting in a startling number of fire emojis in the comments.
Available sizes: XX-Small — X-Large
Available colors: 1
5. A Darkly Feminine Two-Piece Dress Dripping With Feathers
Another entry in the maximalist category, the Delphie has been worn by the likes of celeb hair stylist Jennifer Yepez. The glistening two-piece black sequined design features an asymmetrical one-shoulder neckline accented by a sweeping off-shoulder drape and a thigh-slit skirt dripping with feathers. Undoubtedly eye-catching.
Available sizes: XX-Small — X-Large
Available colors: 1
6. This Gatsby-Inspired Gown With A Lace-Up Back
If you're on the hunt for a piece that can hold its own at formal events without feeling overly serious, the Meghan gown should be a serious contender. The Roaring '20s fringe feels festive and a bit cheeky while the glittering silver beads, deep V-neckline, and lace-up back are statement-making glamour guaranteed to rise to any occasion.
Available sizes: XX-Small — X-Large
Available colors: 1
7. This Sculptural, Flowing One-Shouldered Gown
Slender diamanté straps intersect with an asymmetrical one-shouldered neckline in the Bellucci gown, which features a waist-grazing bodice cutout. Balancing the form-fitting bodice is its flowing skirt, which complements the angled cutout with a thigh-high slit. This is a dress that can glide with you onto the dance floor, or be elegant in stillness.
Available sizes: XX-Small — X-Large
Available colors: 1
8. An Icy Blue Statement Dress With Subtle Sparkle
The liquid baby-blue satin of the Sasha gown is accented by diamanté trim that leaves a sparkling trail across the bodice that encircles each center cutout before racing its way across the wide tank straps and all the way down a hip-high slit. Actress, artist and influencer Patricia Gloria Contreras wore the Sasha at Cannes as part of a mermaid-inspired look, but your ensemble needn't be sea-centered — this dress will dazzle at any black tie or formal event.
Available sizes: XX-Small — X-Large
Available colors: 1
9. A Deceptively Minimalist Gown In Louboutin Red
Think of the Audette gown as a sort of extroverted introvert. Its simple, body-skimming silhouette combine with the five-alarm fire red hue and lace-up back for an effect that's eye-catching yet elegant in its restraint. The sweetheart neckline dips as the thigh-high slit rises for a timeless, statement-making dress you'll wear season after season.
Available sizes: XX-Small — X-Large
Available colors: 1
10. This Lingerie-Inspired Gown With A Corset Back
It's only natural to combine the lingerie trend with formal or black tie attire, a tactic that certainly seems to be working overtime in the Greta gown, which features an intricate lace bodice and lace-trimmed sweetheart neckline with a lace-up back, all rendered in a luminous satin. The effect is lace teddy-adjacent, and unquestionably stunning.
Available sizes: XX-Small — X-Large
Available colors: 1
11. This Shimmering One-Shoulder Midi Dress For Cocktail Hour
For cocktail parties and weddings — or any event that demands you hit the mark without leaning into anything overly formal — rely on the Naila dress. Rendered in shimmering satin, the design features eye-catching details like a keyhole cutout and a one-shouldered neckline along with a thigh-high slit. Meanwhile, the midi length is ideal for showing off a pair of strappy gladiator stilettos. Despite the slightly more toned-down appeal, this is a dress that's bound to turn some heads.
Available sizes: XX-Small — X-Large
Available colors: 1
12. An Open-Back Sequined Gown That Steals The Spotlight
The Ofelia is a formal gown with a bit of a trick up its sleeve. From the front, one sees a full-length gown with a little extra coverage — thanks to the high neck and short sleeves — with the impact coming from rows of silver sequins. But turn around, and behold a daring open back: Perhaps the Ofelia covers up a bit more where others reveal, but she's never staid.
Available sizes: XX-Small — X-Large
Available colors: 1
This article was originally published on