Introducing Mansur Gavriel Handbags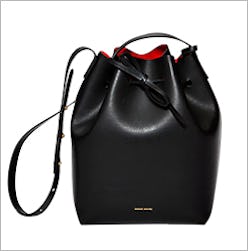 While you may be hesitant to shop for autumn apparel just yet, you needn't hold off on scooping up a new handbag to rock into the leaf-falling season! For your consideration, we propose one of the head-turning, sleek styles from up-and-coming label Mansur Gavriel.
From Rachel Mansur and Floriana Gavriel, a duo who met in 2010 and quickly became creative counterparts, comes this carry-with-everything collection defined by clean lines, Italian leather and splashes of color. Take a peek at the debut 35-piece lineup and you'll swoon over every last article, from the business-appropriate totes to the office-to-out bucket bags and dapper phone cases. Eager to kick your fall wardrobe off with a bang—or bag? Secure your grasp around one of these beauties and hold on tight!
Availability: Mansur Gavriel Handbags and Leather Goods ($65-$495). Select styles available at StevenAlan.com, and coming soon to Net-A-Porter.com. For additional information, visit MansurGavriel.com.