Make Your Own Floral Crown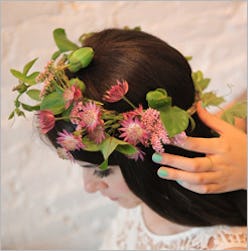 Flower crowns may have started as a music festival trend, but if you ask us, they are here to stay! Give your summer outfits a whimsical update with a blossoming accent of your own; florist Denise Porcaro of NYC's Flower Girl shop shows you how it's done!
Learn how to make your own flower crown!
Gather your ingredients: floral cloth wire, floral design wire, flowers of your choice, greens and clippers.
Measure the head of the person who will wear the wreath with floral cloth wire.
Wrap the greens with one piece of continuous design wire around the cloth wire.
Trim extra stems.
Try on wreath as you go, remove leaves that are out of place or anything that is sticking out too much.
Begin adding blooms. Cut the blooms to your desired length.
Wire the blooms. Make sure you add wire to each individual flower to secure it in place.
Now you have your final product! Enjoy!