Suede Rules: How To Treat Spring's Most Wanted Material
2014 Adam Katz Sinding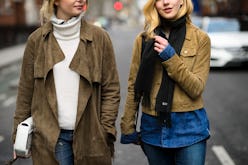 Thanks to its ubiquitous presence on the spring runways, from Derek Lam to Gucci and Jason Wu, we have been totally swayed in the direction of suede. But the 70's-cool fabric comes with a cost: it is hard to maintain longterm. Not to fear, Zoe Reporters! To ensure you don't shy away from the on-trend textile, we researched the best strategies for prolonging your velvety pieces. Read on for our findings, and shop a few suede selects while you're at it!
3 Ways To Save Your Suede
Photo: Adam Katz Sinding
1. Waterproof Before You Wear
Whenever you make a suede purchase, treat said item right away with a stain prevention spray. This is a small step that will go a long way in extending the life of a piece. It also goes without saying that if your weather app calls for rain or snow, it is best to leave your suede items at home.
Shop:
2. Clean Carefully And Creatively
Coffee spill on your fave suede shoes? Resolve the disaster in a few simple steps: pat the stain with a dry cloth, sprinkle on corn meal or talcum powder and let it sit overnight. Sweep the powder off the next day with a toothbrush, and ta-da, you've rescued your piece!
*For heavier or dry marks (think: dirt), blot out with a towel dampened in white vinegar.
Shop:
3. Leave It To The Professionals
Should your suede endure a daunting stain or damage, it is to trust a professional (dry cleaner or cobbler) to tackle the problem. Otherwise, you risk making matters worse by hand washing — water is a huge no-no for suede.
Shop: