These Are The 46 Most Powerful Women In The World (That You Should Definitely Know About)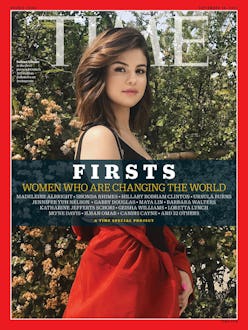 Time just revealed its latest project, and we are here for it. Aptly called Firsts, it profiles 46 women who have broken the glass ceiling in their fields, which range from politics to science to entertainment. "Our goal with Firsts is for every woman and girl to find someone whose presence in the highest reaches of success says to her that it is safe to climb, come on up, the view is spectacular," says Time.
Time unveiled 12 covers that are basically girl power in magazine form, featuring game-changing women from Hillary Clinton (the first woman to secure a presidential nomination from a major party in the United States) to Selena Gomez (the first person to reach 100 million followers on Instagram). And they were all shot by photographer Luisa Dörr on an iPhone.
You can check out the interviews online, and find them in book format in Firsts: The Women Who Are Changing The World (available September 19).
As Madeleine Albright, one of the women profiled, says, "There is plenty of room in the world for mediocre men, but there is no room for mediocre women." Preach.