6 People Who Are Probably, Maybe Going To Replace Kim Cattrall If They Make Sex And The City 3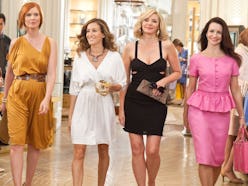 Kim Cattrall is not here for that Sex and the City 3 BS, and, apparently, Ryan Murphy is not here for Kim Cattrall. (Side note: Who asked him?) The other day during an interview at the New Yorker Festival, Ryan pulled a Beyoncé and told Kim she wasn't irreplaceable. Basically he said, hey, Samantha wasn't really that important in SATC so I don't know why they don't just recast her. Game of Thrones did it with that one Daario guy. Plus, they already remade Dirty Dancing this year so it wouldn't even be the worst thing that's happened. (I'm paraphrasing here.)
A little context: There has been some serious drama regarding Sex and the City 3, a movie that's not getting made. "It's not just disappointing that we don't get to tell the story and have that experience, but more so for that audience that has been so vocal in wanting another movie," said Sarah Jessica Parker.
I'm gonna let you finish, SJP, but who are these people who want a third Sex and the City movie? Are they the same people who are excited for that awful Hocus Pocus remake? Because no one has been asking for another SATC movie. As much as I loved the show and the first movie (I'm withholding comment on SATC 2 because I've been trying to cut back on the amount of anger I experience), sometimes things need to end. Right now we're in remake/reboot hell, and enough is enough.
Kim gets it. "This isn't about more money, this is not about more scenes, it's not about any of those things. This is about a clear decision, an empowered decision in my life to end one chapter and start another. I'm 61. It's now," she fired back at her haters.
If they are looking to find someone to step into Kim's shoes, here are some very serious and not at all ridiculous suggestions:
1. Ilana Glazer
2. A Porg
3. Michelle Obama
4. Jane Fonda
5. Dame Judi Dench
6. Oprah
Ryan had not one, but two brilliant ways to handle the no-Kim issue: "Just do one where Samantha is dead." That's a great idea, because SATC is known for its tactful handling of such situations. It's been called Six Feet Under but in New York with more Manolos.
Or they could, you know, come up with a new, original movie idea. Just a thought.