Angelina Jolie's New Film, Plus 7 Other Must-Watches From Toronto International Film Festival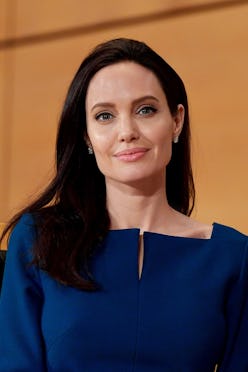 Toronto International Film Festival officially kicks off tomorrow, September 7. The 11-day event will screen more than 400 films and include a mix of premieres and movies that have been shown at other festivals. Basically, it's like an extensive overview of what's coming to theaters this fall. Here, the movies that should be on your radar.
Movies To Watch: Toronto International Film Festival
Mother!
This psychological thriller stars Jennifer Lawrence and Javier Bardem, and is directed by Darren Aronofsky (aka the man who brought us Black Swan).
"I had to go to a darker place than I've ever been in my life. ... I didn't know if I'd be able to come out okay," Jennifer told Vogue. So, yeah, it's going to be scary.
I, Tonya
Margot Robbie as Tonya Harding. Enough said.
The Shape Of Water
This adult fairy tale is already being touted as director Guillermo Del Toro's best. The story follows a mute janitor who falls in love with a human-like water creature being held captive by the government during the Cold War.
Battle Of The Sexes
This sports dramedy stars Emma Stone and Steve Carell in a story loosely based on the real "battle of the sexes" tennis match in 1973 between Billie Jean King and Bobby Riggs.
Mary Shelley
This biopic about Frankenstein author Mary Shelley was directed and written by women—Haifaa al-Mansour and Emma Jensen, respectively. Elle Fanning stars, and Game Of Thrones' Maisie Williams also appears.
The Disaster Artist
The 2003 film The Room is widely considered to be the worst movie ever made. This movie gives a behind-the-scenes look at how it actually got made, and stars not one but two Francos (James and Dave), along with Zac Efron, Seth Rogen and Josh Hutcherson.
Gaga: Five Foot Two
This Lady Gaga Netflix documentary is out September 22. "[You will see] a woman who's an artist, creates all day, thinks all day and also has the experiences [as] both an artist and a celebrity. Those two things collide for me, and you'll see how they're conflicted," Gaga told Entertainment Weekly.
First They Killed My Father: A Daughter Of Cambodia Remembers
This Angelina Jolie–helmed film is an adaptation of a memoir by Loung Ung, a childhood survivor of the Cambodian genocide and human rights activist. Audiences gave it a standing ovation at the Telluride Film Festival in Colorado.