According To Gwyneth Paltrow, This Simple Practice Can Cure Insomnia And Depression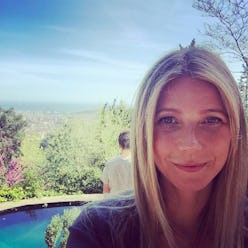 Whether or not we choose to follow it, we can't help but be intrigued by practically every bit of New Age-y advice that we read on Gwyneth Paltrow's lifestyle site Goop. The woman's got her fans sipping bone broth for great skin, using jade "yoni eggs" (we'll just let you Google that one) for better sex, and whipping up a batch of Spirit Truffles to activate ESP, and now Goop is highlighting a very, um, natural solution to everything from insomnia to depression. In the feature, self care guru/author Clint Ober outlines the benefits to a type of therapy known as earthing, which—in layman's terms—involves simply kicking off your shoes and planting your feet firmly on the earth (the sand works too, btw).
If you think this sounds like something for tree huggers you're not alone: like a lot of other features on the site, this article is already getting a lot of eye rolls. But Ober claims earthing isn't just some hippie practice, it's actually pretty scientific. "The air and environment contain static electricity that gives electrical wires a different potential than the earth; you could also think of it as a different amount of electrical charge," he states, "The earth will discharge or take up an infinite amount of electrons, so when something with electrical charge is connected to the ground, its electrical potential neutralizes." We must admit, we've got our concerns (not the least of which are fire ants and other pests), but if earthing is gonna get us a good night's sleep, we might just give it a whirl.