8 Shows To Binge-Watch Before The Emmys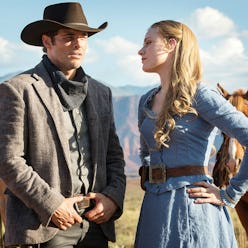 It's the most wonderful time of the year! And by that, of course, I mean it's fall, which not only signifies sweater weather and PSLs, but also the return of my favorite TV shows and, best of all, the Emmys.
I love awards shows. I remember my eight-year-old self watching Halle Berry win her Academy Award for Best Actress in that "shocking" dress. I remember the gasp heard round the world when Miley came onstage to perform at the VMAs that one year. I listen to acceptance speeches the way other people listen to their best friend's maid of honor toast (with reverence, pride and a tear in my eye—here's my all-time fave).
As wonderful as awards shows are, however, they're no fun to watch when you're not invested in any of the nominees. So before you tune in on September 17, you'll want to get caught up on this year's most talked-about nominees. Here are the shows to binge before this year's Emmys. (Bonus: None of my picks have more than a few seasons, so you'll definitely have time to catch up by Sunday.)
1. Stranger Things (18 nominations)
Anyone who knows me knows that I just had to include this in the list. Stranger Things was not only my favorite show of 2016, but it's also probably my favorite show ever. It's on the top of this list not only because it's the perfect length for quick bingeing (it's only one season of eight episodes so far), but it's also set to return to the small screen for season two next month. I'm predicting that it'll dominate all around at this year's Emmys, but I'm rooting especially hard both for 13-year-old Millie Bobby Brown (Outstanding Supporting Actress in a Drama and certified badass) and for Riverdale fave Shannon Purser (Outstanding Guest Actress in a Drama Series—#RevengeForBarb!!).
Where to watch: Netflix
2. The Handmaid's Tale (13 nominations)
THT is probably the most talked-about show of the year. What began as a moving post-apocalyptic novel is now an eerily timely series focusing on the story of Offred, a handmaid forced into sexual slavery. You'll recognize a lot of the actors nominated (Elisabeth Moss is definitely a strong contender for Outstanding Lead Actress in a Drama), and this show signifies a brand-new era for Hulu—these 13 nominations are by far the most a Hulu show has ever received, which effectively puts the formerly streaming-only network in among the ranks of Amazon and Netflix.
Where to watch: Hulu
To read more, visit The Everygirl.