Ciara's Instagram About Her Baby Weight Is So Inspiring—And Not For The Reason You'd Expect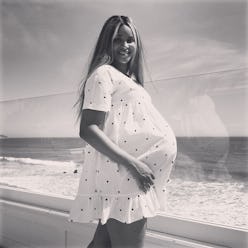 If you Google "celebrity post-baby body," you'll find a multitude of articles about how famous moms have shed their baby weight quickly—often within mere weeks. Society puts pressure on women to "bounce back" (ugh) after literally growing a human inside of them for nine months. But this is why we love Ciara's recent Instagram post. In it, she gets honest about gaining 60 pounds during her pregnancy, and shares a picture of her scale.
While we know that weight is only a number, it's practically unheard of for a female celebrity to share hers. See the photo below, which Ciara captioned: "I said I wasn't going to gain 60lbs Carrying Sienna, and… I did exactly that!! … 4 weeks after her birth I lost 20 lbs. This Week's Goal is 10lbs. I was 183 yesterday. #BounceBack #LevelUp"
The fact that Ciara chose to share the number on her scale has inspired commenters, who are responding with sentiments like, "This is just what I needed to see. I also gained 60 and have lost 20. I've been really hard on myself about it." The more honest and open we are about taboo topics like this, the more we can have positive conversations. Bottom line: Losing baby weight shouldn't be about societal standards; it should be about how a woman feels—and that's different for every mother.