The Ultimate Paris Shopping Guide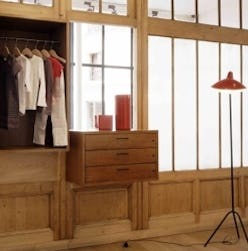 If you're abroad soaking up the final fashionable days of Paris Fashion Week or planning a luxe getaway in the near future, take full advantage of La Paree's top locales as chosen by Team Zoe contributor Natacha Steven—the crème de la crème of the chicest city in the world await your visit!
Le Bon Marche "No trip to The City of Lights would be complete if a stop at Le Bon Marche was left out of the itinerary. This large-scale department store is literally a world within itself—padlock your pocketbooks and foresee the potential for serious shopping to take place!"
The Broken Arm "This boutique features threads from Paris-based designers like Kenzo. In addition, their café is a trendy place to get your grub on. Check it out!"
Photo:HipParis.com.
Le Grande Epicerie "Prime your palette, Zoe Reporters! Don't forget to grab a bite to eat at Le Grande Epicerie—foodies beware, this eatery is stocked with international foods, an impressive wine department and a slew of gourmet goodies waiting to be tasted!"
Galerie 66(also knows as Le 66) "You can call this chic site "heaven." Located on the Champs-Elysses, Galerie 66 houses everything from fashionable buys to music and art exhibitions. Needless to say, this concept store deserves a vital visitation."
Montaigne Market "Be sure to stop by Montaigne Market, another hot spot known best as your shopping destination for designer finds. This pret-a-porter haven takes the typical boutique to the next level."
Mes Demoiselles "What's Paris without good, old fashioned shopping? Make Mes Demoiselles your destination for flirty, retro finds via a collection of easy-to-wear pieces that are so cool, you won't be spotting them anywhere in the US."
Elise Dray "Merging glam hippie style with gorgeous, rocker-chic jewels, Elise Dray showcases one-of-a-kind baubles worth blabbing about! Prepare to do some major damage in the diamond department—no judgments here!"
Photo: Elise Dray.
Biondini "Let your inner Carrie Bradshaw out in the name of Biondini, your top stop for the best shoe selection, ever."
Isabel Marant "Isabel Marant's flagship store on Rue de Charonne is one must-see shop that should not be missed. Filled with your favorite feminine, boho-style pieces from Marant's iconic label, it's almost mandatory to pop in for a visit."
Merci Pa "This concept store includes a spectrum of items too vast to describe. Think lifestyle items, beauty buys, apparel and accessories, as well as a Parisian restaurant or two. Looking to stock up on souvenirs for your besties back home? Merci Pa is your place."
Photo: DesignDestinations.org.
Clarins Spa "Then, there is the Clarins Spa. The only way to properly repay our tired toes would result in an indulgence at this sensation spa, located at the Royal Monceau Hotel. Escape to this immaculate white and glass atmosphere and kiss your stressors of the day 'goodbye.' Honestly, shouldn't a cobblestone streets and stilettos combo end in a day of pampering?"