Is Sea Moss The Big Superfood Of 2023? Kourtney Kardashian Says Yes
Get ready to see it everywhere.
@kourtneykardash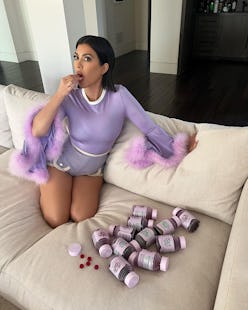 We may receive a portion of sales if you purchase a product through a link in this article.
While kale, ashwagandha, and apple cider vinegar may have been the buzzy wellness trends of years past, it seems a new superfood has entered the chat, and it already has a Kardashian's stamp of approval. Yes, recently, Kourtney Kardashian took to Instagram to talk about her latest Lemme product, Lemme Sea, a sea moss tincture. In her post, she said she's tried the botanical in gel form in her smoothies, but was never fully able to add it to her routine. "I just couldn't get over the taste," she wrote. "[So] I was so so sooooo excited to make a sea moss tincture that tasted yummy. … And for those of you who cringe at the taste of sea moss — we made ours taste sweet and fresh."
For those unfamiliar with sea moss, it's a red type of algae that grows naturally along rocky coasts and is quickly becoming known as a superfood due to its good-for-you-health properties. For example, it's a good source of fiber and live bacteria, which is ideal for gut health. "It can help replenish the good bacteria in our gut," Registered Dietitian Beth Czerwony told Cleveland Clinic. It contains many vitamins and minerals, too, including calcium, magnesium, calcium, phosphorus, and potassium. Studies have found that it also has antioxidant properties, can help boost immunity, and is good for hair and skin, as well. In addition, it is a great source of iodine, which can help with thyroid health.
As a supplement, sea moss is often consumed raw, as a pill, powder, gel, or gummy. For its new tincture (which launched earlier this month), Lemme paired wildcrafted, certified-organic Irish sea moss with biotin and vegan vitamin D3. If you want to get started on your own sea moss journey, ahead Lemme's latest, as well as an assortment of related products to help you hit the ground running.