Priyanka Chopra Jonas Shares Her Secret For Making Sweatsuits Look Chic
Gotham/GC Images/Getty Images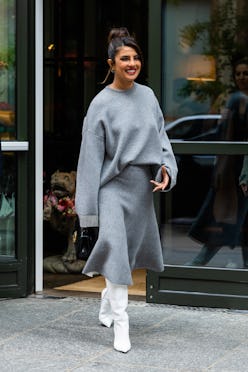 You always hear about how some people have the ability to light up a room — and Priyanka Chopra Jonas is, without a doubt, one of those types. On Oct. 20, I had the opportunity to chat with the Love Again actor in a dimly lit space at SoHo lofts, where she was speaking at Marshalls' first-ever Good Stuff Social Club, a two-day event with workshops and networking opportunities for women. I'll admit, I was slightly nervous leading up to the interview, but as soon as I popped down next to the star, her welcoming, bubbly, and highly contagious personality put me at ease. During our eight-minute discussion, Chopra Jones shared everything from her all-time favorite fashion moments to her latest venture with the affordable retailer.
Ever since starring in ABC's drama Quantico in 2015, it's no secret Chopra Jonas has been a force to be reckoned with on the red carpet. In fact, the actor, who now works with stylist Rebecca Corbin-Murray, has quite the track record of making headlines for her bold, risk-taking style moments (we'll get to a few standout ones below). But when she's not posing for hordes of photographers in luxe designer looks, the actor likes to keep things laid-back in the style department, especially after having her daughter, Malti, who is now one and a half years old.
"I really don't have a love and admiration for heels the way I did before," she says, referencing her shift in style perspective since giving birth in January 2022. "That's definitely changed; I don't like being elevated anymore because I'm on the run all day." That said, she did make an exception for the day of our interview, as she was wearing a "super comfortable" pair of Valentino pumps from Marshalls, which she teamed with a 7 For All Mankind red faux leather dress, also from the retailer.
Ahead, read on about Chopra Jonas' new partnership with Marshalls and more about her spectacular wardrobe choices. And if you ever get the chance to meet her IRL? You're in for a treat.
How were you first introduced to Marshalls and what's your relationship with the company?
Marshalls has been around forever, but I remember this moment when I was filming Quantico Season Two in New York. The show had just moved from Montreal to New York, and I had just moved from India to America. It was a big move. You don't have friends, and it was all just very new. I was driving back from Silver Cup Studios, and I stopped at Marshalls to find an activity. I wanted something that I'd do outside of work because I was going to [set] and coming back home. I remember I went and got an easel and paints. That was the longest time I've spent in Marshalls, and I came out with a bunch of amazing stuff.
And this new relationship I've built with Marshalls, on a professional level, is [all about] uplifting and empowering women. I love that a corporate company like Marshalls is willing not just to talk the talk but actually walk the walk. They created two days of this amazing space for women to come in and talk about their aspirations, learn about them, and meet with experts in their fields.
Are you a budget shopper? How do you save money when you're shopping?
Well, it depends on the day, right? There are days when I'm a splurgy shopper, depending on my last check. And then there are times where I'm like, 'Oh, maybe not.' But if a number pinches me, then I don't do it. And if you think about it twice, maybe you should put it in the question mark pile.
How would you describe your style?
It's comfortable but put together. Even at home, I like to be put together, but I don't like to be dressed up. You know what I mean? So it looks cohesive, but it doesn't necessarily have to be dressed up. [For instance, I dress up sweats by choosing] the same colors, like beiges, whites, grays, and blacks. If it looks like a set, even if it's not, it'll look put together, and color has helped me do that.
Where do you find style inspiration? Do you have any style icons?
I love Rihanna and how she expresses herself. She's a modern day style icon. I've always been a Sophia Loren fan. I think Rekha in Indian movies was an amazing style icon and still is. But I derive a lot of my inspo from everyday things and how I'm feeling. Say I'm having a day when I'm not feeling really great about myself or my body. I don't want to be in a body con dress, right? So I would rather wear something that I'm feeling comfortable and confident in, rather than try and push a trend upon myself.
What are some of your favorite red carpet looks?
For my first Met Gala [in 2017], I wore this beige trench coat dress from Ralph Lauren, which was amazing. And for my first Emmy Awards [in 2016], there was this red Jason Wu dress, and I loved that piece so much. I was twirling all night, and it was really beautiful. I wore this amazing Rita Kumar look at the Marrakesh Film Festival a few years ago; it was a black lace dress. I love clothes, and I get to work with incredible stylists and designers around the world because of my job. And I definitely take advantage of that.
How do you come up with your red carpet outfits?
I try on a few; it's never just one for me. And it's really important you wear the dress, and the dress doesn't wear you. So even if you're wearing a complicated dress or a dress that's not your everyday style, take five minutes to just walk around in it. Even if you're going to a party, get comfortable in the dress beforehand.