Mary-Kate & Ashley Olsen Have Been Setting Hair Trends Since The '90s — Here Are Their Best Looks
The duo have embodied every trend to cross our consciousness.
James Devaney/GC Images/Getty Images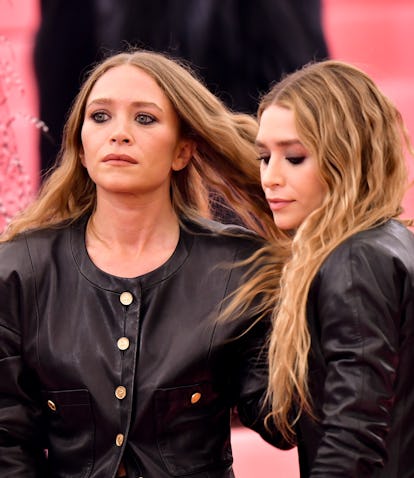 The Olsen twins are famously elusive, only coming out for the occasional Fashion Week or highly anticipated annual Met Gala appearances. These too brief moments are now taken as rare opportunities to rave over their congruent mermaid waves and cool-girl updos. Mary-Kate and Ashley Olsen have been hairstyle icons since practically the day they were born — here's a look back at their best looks.
These days, people put unprecedented amounts of energy into recreating The Row designers' trademark rib-length beach waves, but back in the Full House era, it was all about bangs and bow-clad high ponies. The '90s gave way to a namesake movie franchise that made them even more iconic and that inevitably led every then-teen — Olsens not spared — into the Laguna Beach era. (A moment of silence for your side-swept bangs.)
Over the past three decades, the duo has been there to embody every blip of a trend to cross our consciousness. In fact, many they set themselves. The sisters have come a long way from bandanas and butterfly clips to the natural waves they're now known for. Mary-Kate and Ashley Olsen's best hairstyles ever — like, in all 33 years — ahead.