Actor María Félix Is The Underrated Beauty Icon You Need To Know
Lipnitzki/Roger Viollet/Getty Images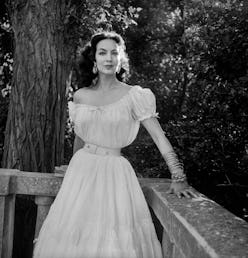 Beauty icon is an honor that isn't taken lightly in the entertainment industry. To be a true embodiment of the title, you have to have an impact that spans decades and withstands the test of time. In short, you have to have staying power and inspire not just the beauty set around you at the time but the generations of enthusiasts to come. Throughout the years, there have been many prominent women, such as Marilyn Monroe, Josephine Baker, and Princess Diana, who've been dubbed beauty icons. However, María Félix, a Mexican actor during the Golden Age of Latin American cinema, is one that often flies under the radar for many people.
Revered as one of the most beautiful actors of her time and arguably the most successful figure in the Mexican film industry, Félix carved her own career path. After making her debut in the 1943 Mexican film El Peñón de las Ánimas (The Rock of Souls), she was given the opportunity to become a Hollywood star. But with little deliberation, Félix turned down the offer and decided to focus only on Spanish-speaking roles that uplifted her country. She went on to star in 47 films and became an important figure in Mexican pop culture.
Ahead, some of the silver screen maven's best looks and most prolific beauty moments.
Beauty Queen Days
During her teenage years, Félix's family moved from her hometown of Álamos, Mexico, to Guadalajara. The metropolitan area was bustling with opportunity and was the first place that people began to take notice of Félix's natural beauty, most notably her strong brows and flowing midnight black hair. Shortly after the move, she was crowned Beauty Queen at the University of Guadalajara. Despite being only 17, the title was her first step on her road to fame and icon status.
Star Status
At the beginning of her career, Félix starred in Doña Bárbara, a romantic film about an attractive, headstrong, and independent Latin American woman with traditional style. With her distinct alluring and commanding look, she embodied the persona of her character so well that she became known as "La Doña" after its debut. The title embraced her powerful personality and ties to her Mexican heritage. To this day, it's seen as one of her most career-defining performances.
Cross-Over Fame
After six years of filming in Mexico, Félix was contacted by a Spanish film producer to begin work on an Italian-Spanish drama by the name of Mare Nostrum. In 1948, the film was released and served as her debut in European cinema and the first of many cross-cultural movies in which she would star as the lead actor. Despite her cross-over status, she continued to embrace her signature dark hair and bold makeup, like a rich, pigmented lip, and an equally sharp and striking winged eyeliner. In this classic still shot, she sports voluminous waves and a deep brick red lip color that becomes synonymous with her style.
The Photographer's Muse
Throughout her time in Europe, Félix's style captivated many, and like any beauty maven, she became the muse of photographers and artists. At the height of her career, she sat for a series of portraits by famed photographer George Karger. In this collection he captures the essence of her natural beauty but also highlights a softer side of her look. Even with a more subdued brow and coral lip she is still radiant and stunning.
Effortless At Any Age
A true beauty icon's signature look has staying power that only gets better with age, as Félix shows here. While enjoying time with family and friends in Acapulco, the actor looks every bit the Doña she is. Sporting her trademark dark cat eye and subtly rosy cheeks, she exudes effortless elegance.
Inspiring A New Generation
In 2022, the actor entered a new realm of icon status with the debut of a biographical television series on TelevisaUnivision entitled María Félix: La Doña. Inspired by her life and contribution to Mexican pop culture, the show captured Félix at different stages of her life. But it also continued her commitment to her culture with a full cast of Latin American actors, such as Sandra Echeverría Gamboa and Ximena Romo Mercado, who were both impacted by her work.
Becoming Barbie
The years were great for Félix, but 2023 might have brought her most iconic moment of all. In the spring, Mattel announced to the internet, and Barbie fans everywhere, that a collector's doll would be made in Félix's likeness to celebrate her impact, style, and unforgettable beauty.