Halloween Queen Kourtney Kardashian *Officially* Kicks Off Spooky Season With This New Manicure
@kourtneykardash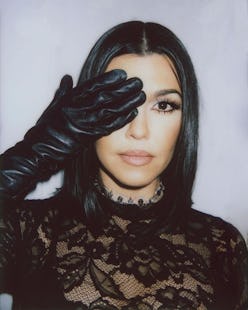 For the record, Kourtney Kardashian is an Aries. Technically, it's little sister Kendall Jenner whose birthday falls closest to spooky season, but that hasn't stopped Kardashian from claiming the Halloween Queen throne — she's the sort who would bust out the 12-foot skeleton guards and pumpkin menagerie on Labor Day. In true fashion, she's also already debuted what's sure to be among the most sought-after manicures of fall in general, but it'll particularly appeal to those who share her love of all things Halloween. Kardashian's dark purple nails are the sort of sumptuous, vampy shade that encapsulates all the best themes of the season — it's a little witchy, a little moody, more than little glamorous.
Though Kardashian's new manicure has only been captured in quick glimpses on her Instagram Stories, nail artist Kim Truong, posted a close-up shot over on her own page, dubbing the look "vampy violet." There on her grid, both the color and oval shape are on full display, with the direct lighting illuminating just how deep and dimensional that rich aubergine really is. It's unclear whether or not any type of extension or tip was used to lengthen the nails, but they do look rather natural.
Truong was even kind enough to reveal the exact polish used on Kardashian, too: The GelBottle Inc's Nyx.
Thanks to her aforementioned reputation as her family's resident Halloween lover and her status as the eldest sibling, it's no surprise that she's the first one to kick off the season with some well-chosen aesthetics. In fact, she actually made her first Halloween post of 2022 this exact time last year, teasing the upcoming holiday with throwback shots of her costumes from previous celebrations. Of course, this fall looks a bit different for Kardashian and her husband, Travis Barker. The pair are expecting their first child together, and experts anticipate Baby Kravis' arrival sometime between October and December of this year.
It's even a distinct possibility that her baby could be born on Halloween — a true heir to her spooky season throne. Even as Kardashian continues to share pictures of her nursery and registry list, she's surely constructing plans for all her haunted-chic decor at the same time.