Keke Palmer Resurrected The '90's Most Polarizing Hairstyle — But Not Without A Modern Twist
@keke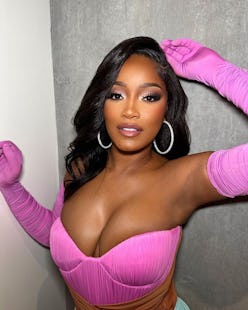 Not that the casting director made a mistake or anything, but as the Barbie movie makes its debut, it's only fair to ask: why is Keke Palmer not in a starring role? Her fashion choices are impeccable, her comebacks are always so witty, and she has more excellent hairstyles in regular rotation than some ever try. Further evidence of her singular, doll-like beauty? The modernized, mermaid-adjacent take on a classic '90s hairstyle. Palmer's long, crimped hair is at once a fun, retro-inspired throwback and a current trend for summer — the ultimate confluence. The best part of Palmer's look, though, is how nonchalantly she wears the crimps, letting the waist-length waves flow for a podcast episode taping. On other stars, a hairstyle that major would be reserved exclusively for a red carpet. For Palmer, the glamour is just part of her packed work day.
The Human Resources star uploaded clips from her latest episode of Baby, This Is Keke Palmer to her Instagram on July 12, her large, professional-quality headphones clamped down on either side of her crimps. In conversation with fellow Disney alumnae Raven Symoné, the pair explore the unique challenges and interpersonal dynamics that come part and parcel with childhood stardom, and Palmer lead the deep discussion while simultaneously showing off the best daytime hair-makeup combination.
To complement her dark gray jeans and vintage photo-covered Leonardo DiCaprio T-shirt, Palmer went for extra glossy waves, some smoky eyeshadow framed by dramatic falsies, and just a hint of frosty nude-brown lipstick with liner for definition. It's the sort of relaxed glamour you try to nail for every low-key drinks meetup — you put in obvious effort, sure, but you're just so good at self-hairstyling and makeup application that it looks completely effortless. She's worn the look a few times before, but this iteration is top-tier.
In a similarly throwback-ish vein, Margot Robbie debuted a crimped-hair look in an homage to a 1994-era Barbie on the red carpet just days before, suggesting that the tight waves are having more than a minor moment. With stars like these co-signing the style, expect to see a full-blown trend explode any time now.