Jennifer Love Hewitt's Bob Haircut Is The Ultimate Fall Transformation
The actor cryptically teased her reasoning behind the major change.
@jenniferlovehewitt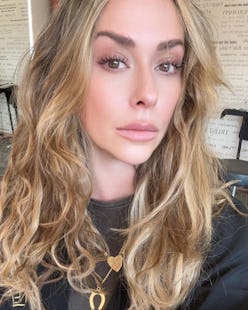 It seems we all know what Jennifer Love Hewitt did this summer — and it involves a very dramatic hair transformation. This week, the actor shared images of a sleek, freshly chopped, chin-length chestnut brown bob, a a significant departure from the long, golden waves she'd been boasting previously. Hewitt proudly captioned her stark before-and-after Instagram post with "Ready for Fall🎃🧡."
Indeed, the fresh cut and color is delivering all the pumpkin spice vibes, channeling the viral cowboy copper trend sweeping TikTok feeds everywhere with its multidimensional shades of auburn, russet, and bronze. The wizard behind the look is Los Angeles-based hairstylist to the stars and founder of Nine Zero One salon in West Hollywood, Nikki Lee. In her own promotional post of the fall-ready look, the hair guru claimed it "Was time to spice things up."
And while it may be true that the new look was brought on by the change of season, as darker hues and fresh cuts are common in the final weeks of summer, Hewitt may have just hinted at a deeper meaning behind the move.
In an August 29 IG Stories post, just a day or two after the big reveal, the Party of Five star shared a cryptic quote that read "When woman want to change her life. She cuts her hair short." The following posts in her Stories showed Hewitt sweating through a seemingly arduous outdoor workout and eating a healthy low-carb lunch. So, perhaps the new 'do is signaling a a bigger shift? This, by the way, is also common around this time of year as people switch out of vacay mode and prepare for the "back to reality" of fall, often cleaning up their eating habits and recommitting to a fitness routine. So, Hewitt may just be one of many who are tuning themselves back into regular, post-summer programming.
Whatever the reason for the new look, we applaud it. A major chop and color swap can be daunting and Hewitt dove into it gracefully and with pure enthusiasm. We predict she is just one of many celebrities who will be making this type of hair move as bobs and lobs (and darker hair colors!) have been the looks du jour of late. Cheers to Hewitt for leading the pack for fall.