Janet Jackson's Hair Has Personally Inspired Half Of Modern Hollywood
Jamie McCarthy/Getty Images Entertainment/Getty Images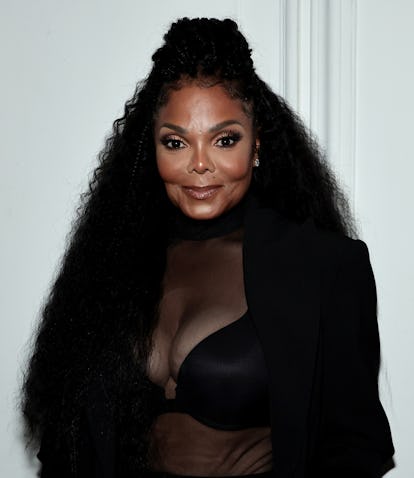 It simply doesn't get more iconic than Janet Jackson. For five full decades, the multitalented star has reigned as one of the country's most reliably talented, crowd-drawing entertainers. But for the millions influenced by Jackson's distinct brand of glamour, she's so much more than just a legacy pop act. With a zeal for aesthetic experimentation and self-expression across a wide range of mediums, Jackson's best hair moments transcend red carpets and movie screens — they became legitimate cultural touchstones that helped define more than a few eras.
From even her earliest years performing with her famous siblings on TV's The Jacksons, it was clear that she, the plucky youngest sister, had something special. As her career expanded and bloomed, so did her beauty tastes. While Jackson liked to keep things decade-appropriate and on trend, though, every hairstyle, outfit, and lipstick choice reflected her unique taste and personal style. That's the kind of creative vision that creates icons, which her still-resonating impact and enduring fame proves.
As Jackson forges ahead on her Together Again concert series — her tenth tour, if you can believe it — look back at the journey that brought her there. Ahead, a selection of Jackson's most memorable, iconic hairstyles of all time.
Rhythm Nation Layers
It's hard to believe that by 1989, Jackson was already four albums into her career — that's just what happens when you start working full-time at such a young age. While singles like "Miss You Much" and "Rhythm Nation" take any Gen Xer right back to the release, so could her sultry, tousled curls which were hidden under a ball cap in the album cover art.
The Ultimate '80s Cut
Taking home one of the evening's top awards, Jackson's wet-look curls are so categorically '80s. With tons of height, defined ringlets (just like her brother on Michael's Bad album), the teased, towering look was a signature of her Control album era.
Poetic Justice Braids
So significant is Jackson's role in the 1993 juggernaut film that the mere mention of "Poetic Justice braids" puts everyone on the same page. Jackson's long, thick box braids fit the character, a hairstylist, and continue to endure as a wildly popular look today.
In homage to the film, she wore the box braids to the 1994 VMAs, where she'd collect three top awards for her fifth album, Janet.
VMAs '90s Pixie
Many of Jackson's most iconic hair moments take place at the MTV Video Music Awards, which makes sense considering the cultural weight they held in the '90s and early '00s. 1995 was a massive year for Jackson as a whole, which made her close-cropped, tousled pageboy cut all the more memorable. In a sweet tribute, Teyana Taylor would wear the same head-to-toe look to the 2017 VMAs — albeit with a slightly more modern take on the hair.
The Velvet Rope Reds
One of the most exciting aspects of Jackson's artistry is the way she combines real-life visuals with her album cycles — the hair, makeup, and outfits she wears to different events and appearances reinforce the music's themes. It's seen again and again through her career, but it peaks with 1997's The Velvet Rope.
On the album cover, her shorter but very defined, glossy curls are a brilliant red, a color she'd maintain for many of her press engagements.
Y2K Highlights
The new millennium brought with it a whole new Jackson, who leaned into the sultry, more-is-more ethos of the decade with long, beachy curls and caramel-colored hair streaks. Jackson's chunky highlights would quickly become a Y2K staple, still one of the era's most instantly-recognizable beauty motifs today.
Control Curls, Redux
In one of the coolest full-circle moments, Jackson payed homage to her legendary Control album for her induction to the Rock & Roll Hall of Fame in 2022. Jackson trusted celebrity hairstylist Larry Sims with recreating the album cover's signature towering curls, but with a modern, artistic spin that added even more height, drama, and volume.
Bang-Accented Beehive
These days, when she's not playing sold-out shows around the world, Jackson appears at the highest-profile events in equally high-fashion hairstyles. For Paris Fashion Week, she turned to Sims again for a glam, towering beehive updo accented by crisscrossing braids and fluffy baby bangs.